Intex Ultra Frame Above-Ground Swimming Pool Buying Guide
---
If you're reading this guide, it means school's out, it's hot outside, and you are in the market for the backyard oasis of your dreams. It's time to relax, unwind, get in the flip flop state of mind, and beat the heat with an Intex Ultra Frame Above-Ground Swimming Pool.
Intex Ultra Frame pools are solid, stunning, and sure to impress. They are made with reinforced, 3-ply material and are beautiful, durable, and simple to assemble and maintain. Each pool has a unique shape to the frame that allows pieces to fit together seamlessly without the frustration of separate locking pins. They show off rust-resistant, premium powder-coated steel frames, SUPER-TOUGH sidewalls, puncture-resistant laminated liners, white copings, and a blue tile pattern that gives you a dose of vitamin sea in your backyard. They also come with the accessories you need to maintain your pool season after season.
As the top of the line pool from Intex, the Ultra Frame is a step up from a regular metal frame pool and is a great way to keep the whole family cool and entertained without breaking the bank. With different shapes, sizes, and prices to choose from, there's bound to be an Ultra Frame pool that floats your boat. We're rooting for you, so let's find the best Ultra Frame pool for you and your needs, cover some ground questions, and uncover why an Ultra Frame is the pool for you.
---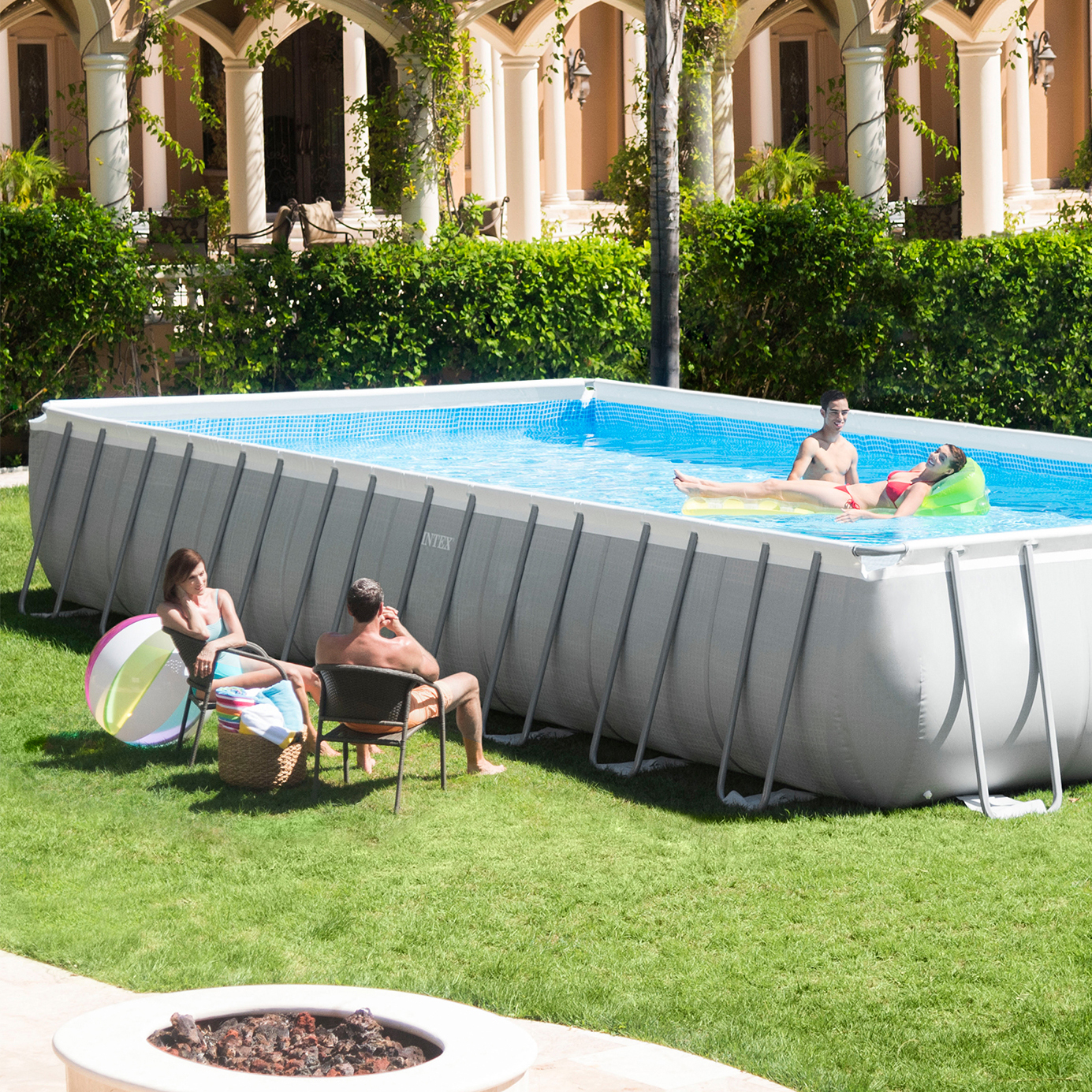 So, what's happenin' in your backyard?
Since your backyard might be getting a new roommate for the summer, be proactive before your big swimming pool purchase and make sure your new Intex Ultra Frame can fit the bill and jive with the size of your yard.
First things first, grab a tape measure and make sure you have the space to fit an Intex Ultra Frame pool. These pools vary in size and shape and can take up a lot of room, so you'll want to have at least a 3-foot perimeter to walk around the pool safely, be within reach of a garden hose, and close to a GFCI electrical outlet for your filter pump to do its thing. You should also envision the traffic pattern around the filter pump so no little toes trip over it as well as be sure that no objects a child could climb on to get into the pool are within 4 to 6 feet. Refrain from setting up your pool on a deck, balcony, or platform, as it could collapse beneath the weight of the filled pool.
You should then ensure that your yard is flat, level, and not comprised of mud, sand, or loose soil. A compact, level surface will make for less stress, a happy pool, and a happy you. If your yard has a slope, consider grabbing a shovel and doing a little manual grading to create a nice, flat surface before your Ultra Frame pool moves in. Lastly, many communities require a fence around a pool, so check your local requirements and your city's codes regarding above-ground pools.
---
How many swimmers will be making a splash?
Selecting the right pool depends on how many swimmers will be cooling off and taking a dip when the toasty temperatures hit. Luckily, there is an Intex Ultra Frame above-ground pool that comes in the appropriate size for every backyard beach.
If you need a pool that fits your family and a few pals, consider a mid-sized option suitable for 4 to 7 people.
Check out a few of these round and rectangular Ultra Frame models that are perfect for 4 to 7 swimmers.
Now, if you love throwing pool parties and have a lot of people to entertain, there are Ultra Frame models for 8 people or more with lots of room for friends, family, and neighbors.
Take a peek at these round and rectangular Ultra Frame models that are perfect for 8 or more swimmers.
---
How tall should your Intex Ultra Frame pool be?
When selecting the perfect Ultra Frame model, keep in mind the height of the children who will be swimming.
-Pools 36 inches or less in height are shallow pools designed for little fins. This height is perfect for beginner-level swimmers and is big enough to accommodate parents.
-Pools 36 to 48 inches in height aren't too deep, but they can still hold a handful of swimmers at various ages and levels.
-Pools greater than 48 inches tall are for families that really want to make a splash during the summer. These pools are large, deep, and perfect for floating, relaxing, searching the pool floor for diving sticks, and enjoying for many years of pool fun.
---
Phew, now that I know how many people will be swimming and how tall my pool should be, which shape should I buy?
Intex Ultra Frame pools come in either a round or rectangular shape. Either shape you choose will create a catchy centerpiece for your backyard, but here are a few pointers: 
Round models are a standard favorite and pair nicely next to a deck. They are perfect for kiddos who are learning to swim and tend to be more social and interactive pools. The round shape also creates contrast with its surroundings, provides more natural circulation, and lends a relaxed, easy-going landscape vibe for your backyard.
Rectangular models are seen as more formal with a modern and sleek aesthetic. If you have a long and narrow backyard, a rectangular pool can remedy any space challenge and allow you to swim laps, practice swimming strokes, and do any kind of aerobic exercise your heart desires. The price tag is a bit higher on the larger Ultra Frame rectangular models, but they give off that in-ground pool sensation you'll adore.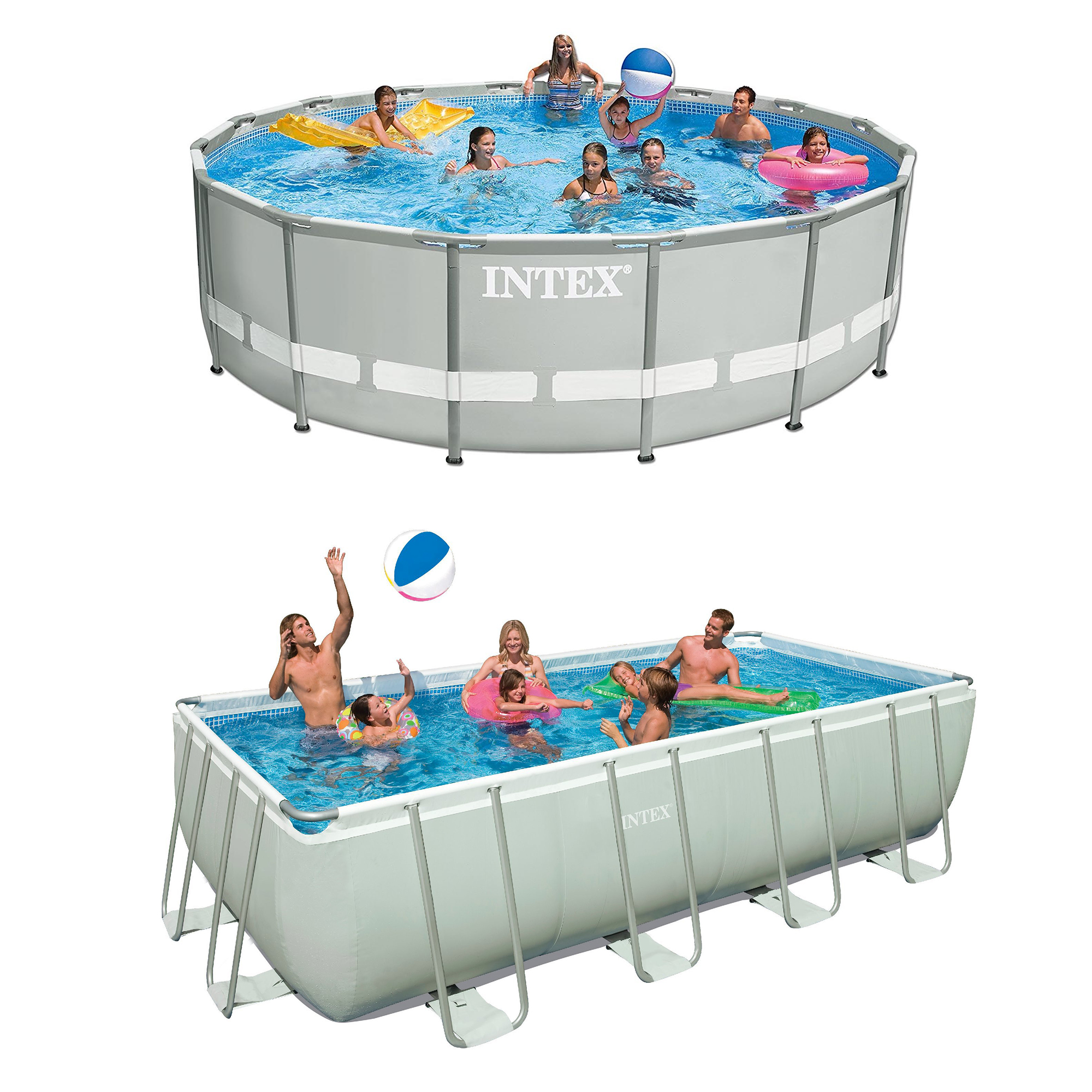 ---
What accessories are included with these groovy Ultra Frame pools?
When that beloved box arrives on your doorstep, you can expect it to have everything you need to get swimming right away.

Note: Deluxe cleaning kit and volleyball set are only included with certain models. 
---
Each pool comes with a pump, but what's the difference between sand filter pumps and filter pumps?
Intex's line of above-ground pool cleaning systems are the most innovative systems you will lay eyes on. They keep your Ultra Frame pool water clean, fresh, and crisp all season long. Depending on the shape and size you choose, you will receive a sand filter pump or a cartridge filter pump.
Sand filter pumps filter your pool water through fine, granulated sand. They reverse the water flow and flush out dirt and unwanted particles that are chillin' in your pool. This backwashing process allows sand filter pumps to work non-stop for days and sometimes weeks before backwashing is necessary, making them low maintenance and easy to use. The sand in your pump can last up to 5 years on average.
On the other hand, cartridge filters use paper filters that catch unwanted particles and critters in your pool. Cartridge filters clean better than sand filters, but cleaning them is a process that requires more maintenance and TLC. The cartridge filter housing must be disassembled in order to rinse off the debris or replace the filter. Cartridge filters should be replaced as regularly as every few weeks.
Intex Ultra Frame pools that include cartridge filter pumps will cost more to replace the filter and require more maintenance, but they are known to keep your pool water cleaner. All in all, the difference between the pumps is maintenance effort. The ball is in your court.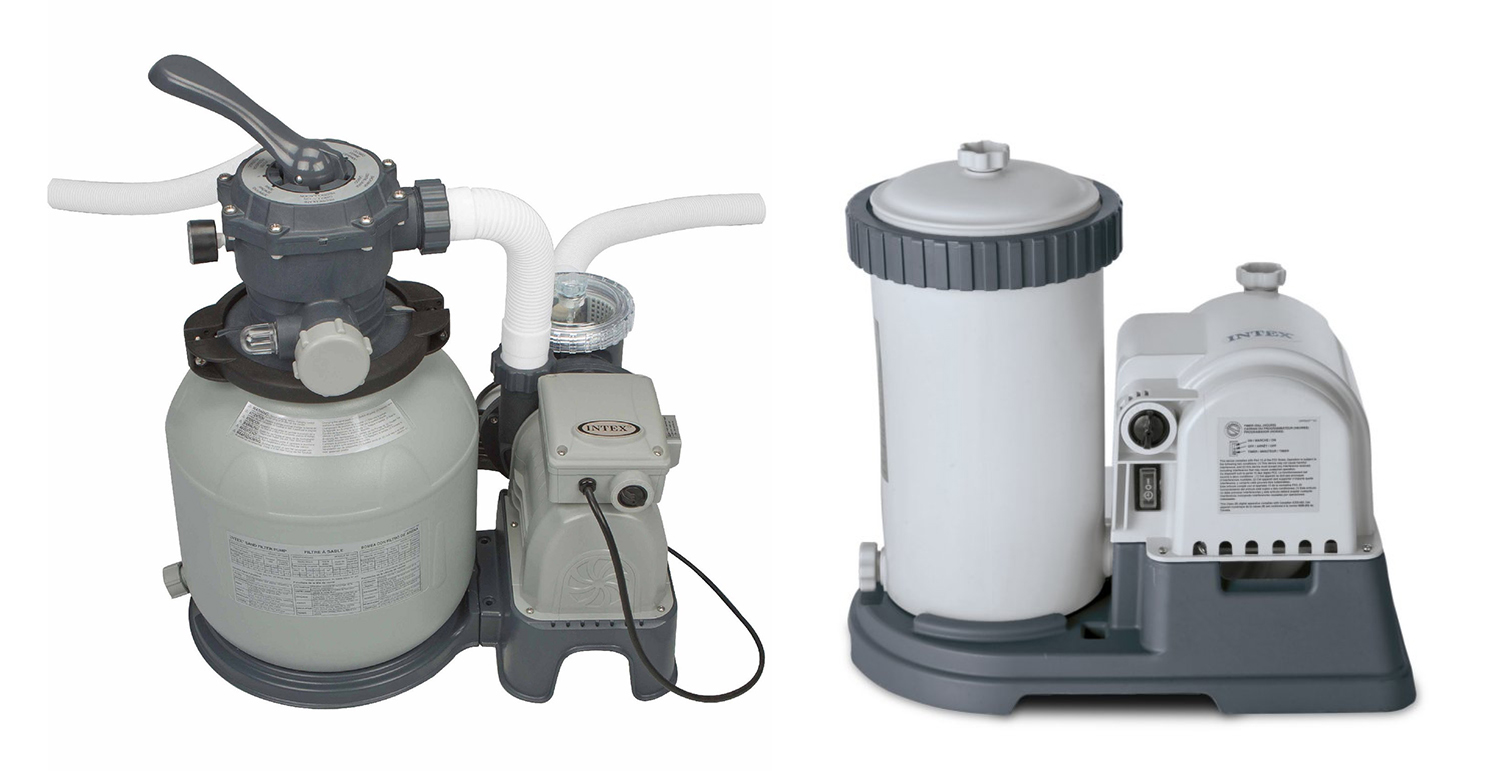 ---
Are Ultra Frame pools hard to assemble or disassemble?
No way, my friends. Ultra Frame models are easy to set up and require no tools, so stretch out, loosen up, and grab a pal when you are ready to get things moving. The entire process can take anywhere from 45 to 90 minutes depending on the size of the Ultra Frame model you choose.
Once you find that flat, level location of yours that we talked about earlier, you will ensure it is free and clear of sharp objects before laying out the included ground cloth. After that, the liner is set up over the ground cloth with the drain valve directed away from your home and the hose connections in sight of an electrical power source for your filter pump's connection. It's great to set up your pool on a warm and sunny day so the liner can warm up before the beams are inserted.
Next, you will assemble the pool's legs and beams. The legs and beams fit together seamlessly at the T-joint, and with Intex's super easy lock system and innovative frame design, the beams snap together in a breeze with no tools needed.  Once the vertical legs are set up and the drain plug is closed with the cap on securely, it's water time. Your pool will be filled just below the sleeve line where the blue tile pattern ends.
Disassembling your pool is just as easy as setting it up. When the swimming season comes to an end, Intex advises disassembling your pool before the winter time or when the temperature falls below 41 degrees. Emptying and storing your pool away prevents ice damage and other harsh elements Mother Nature may bring during the colder temperatures. Damage to your pool during the winter can result in liner failure or pool collapse, and no one has time for that.  If temperatures in your area do not drop below chilly, 41-degree temperatures, an Intex pool cover will do the trick for you.
---
What is the warranty for an Intex Ultra Frame pool?
Intex pools have a limited warranty. The limited warranty is valid for 90 days from the date of the initial purchase and applies to the pool only.
---
Why will an Intex Ultra Frame pool benefit my life?
Ultra Frame pools provide the ultimate swimming experience at an affordable price. They are an exquisite alternative to an in-ground pool that will save you both time and money. The high-quality materials will last you years so you aren't buying a new one every season, and the simple set up and variety of sizes allows you to find the right one for your lifestyle, space, and budget. With a beautiful, contemporary design that enhances your backyard, Ultra Frame pools are complete, ready-to-use sets with minimal maintenance, and are stronger than traditional metal frame pools to withstand all of the summer fun you have with your friends and family.
---
Ready to roll? Your new Intex Ultra Frame above-ground pool might just be in our selection! 
Round Ultra Frame Pools for 4 to 7 Swimmers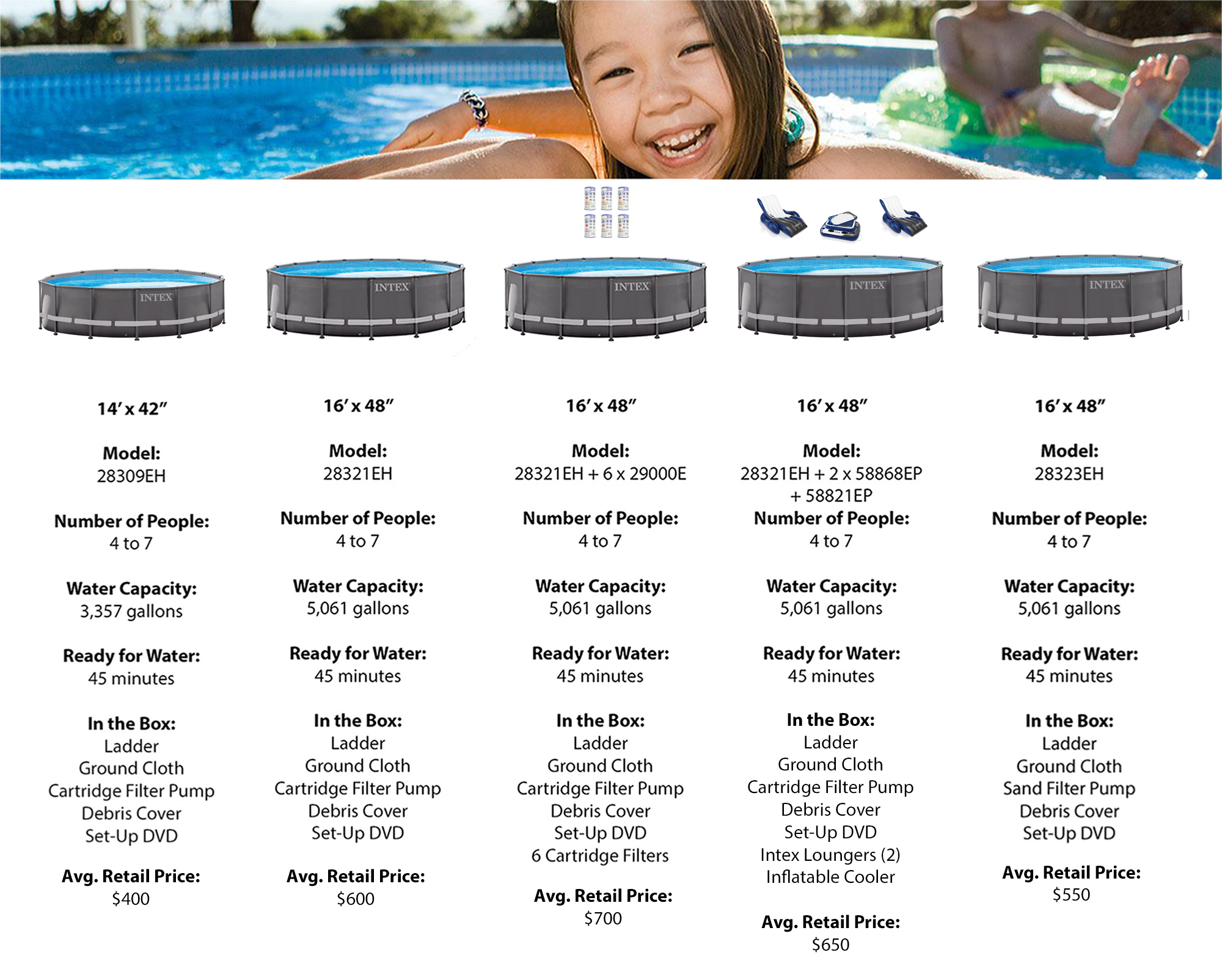 Links to pools shown above:
28309EH
28321EH
28321EH
28321EH
28323EH
Round Ultra Frame Pools for  8+ Swimmers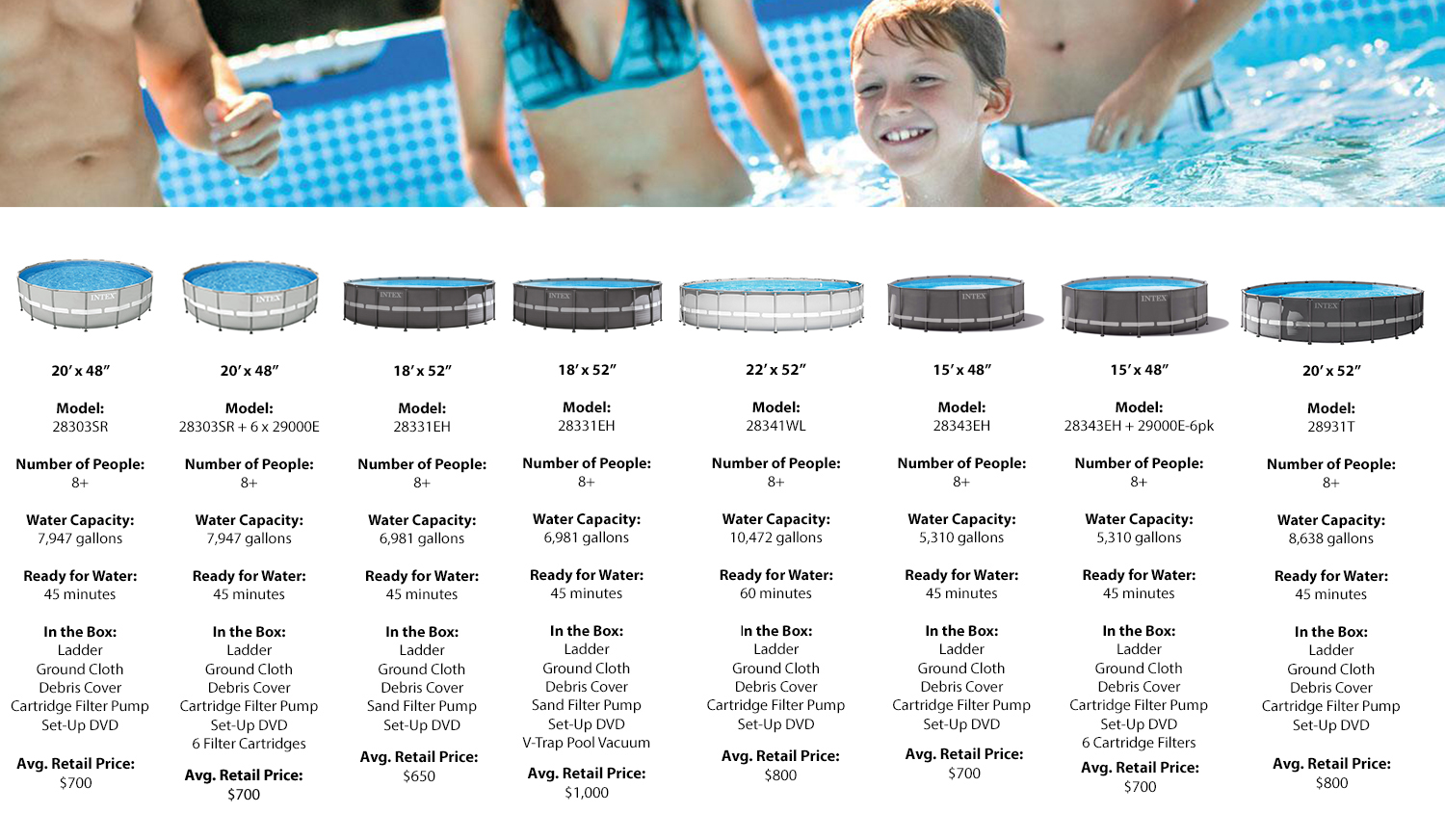 Links to pools shown above:
28303SR
28303SR
28331EH
28331EH
28341WL
28343EH
28343EH
28391T
Rectangular Ultra Frame Pools for 4 to 7 Swimmers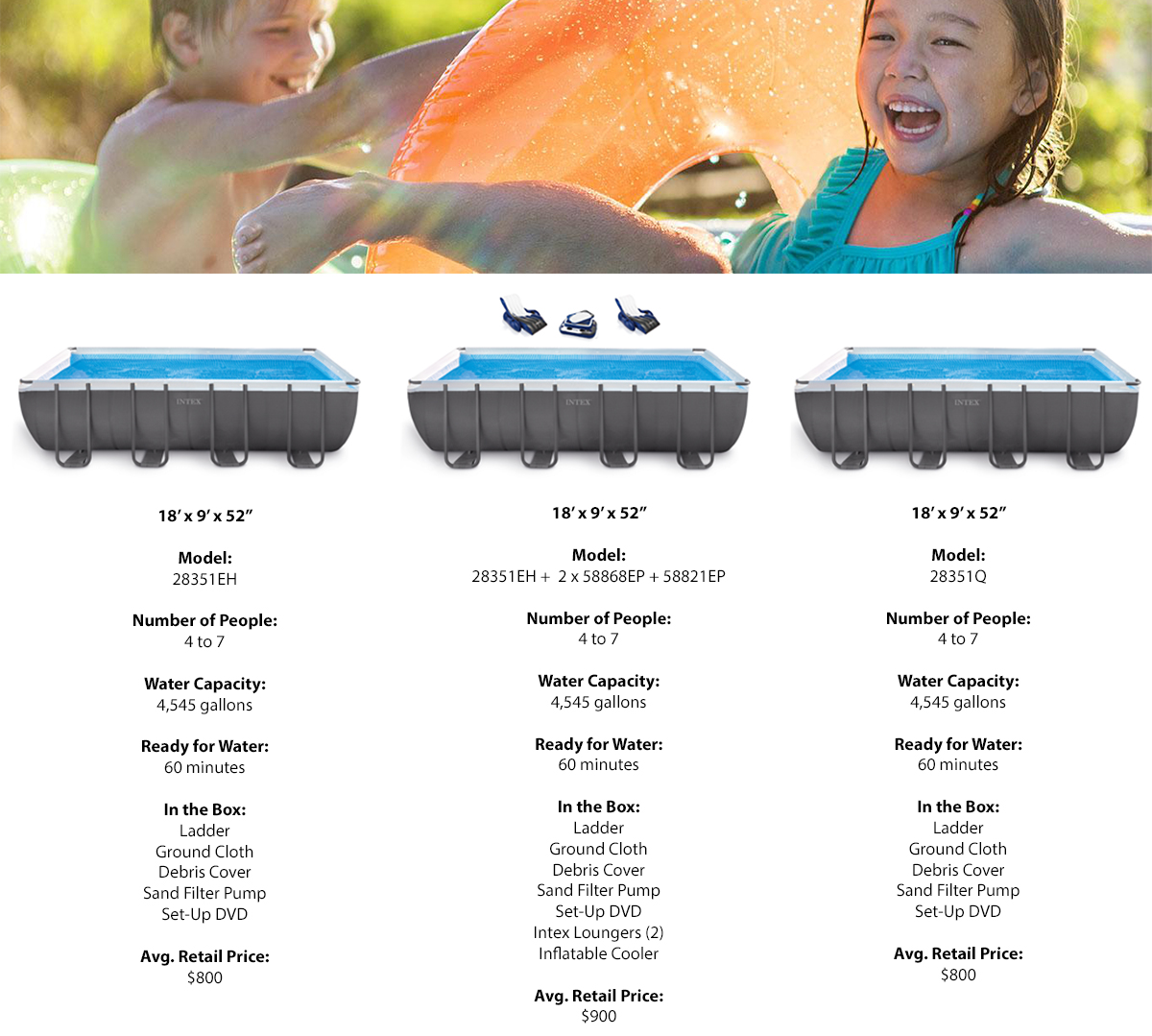 Links to pools  shown above:
28351EH
28351EH + 2x 58868EP + 58821EP
28351Q
Rectangular Ultra Frame Pools for 8+ Swimmers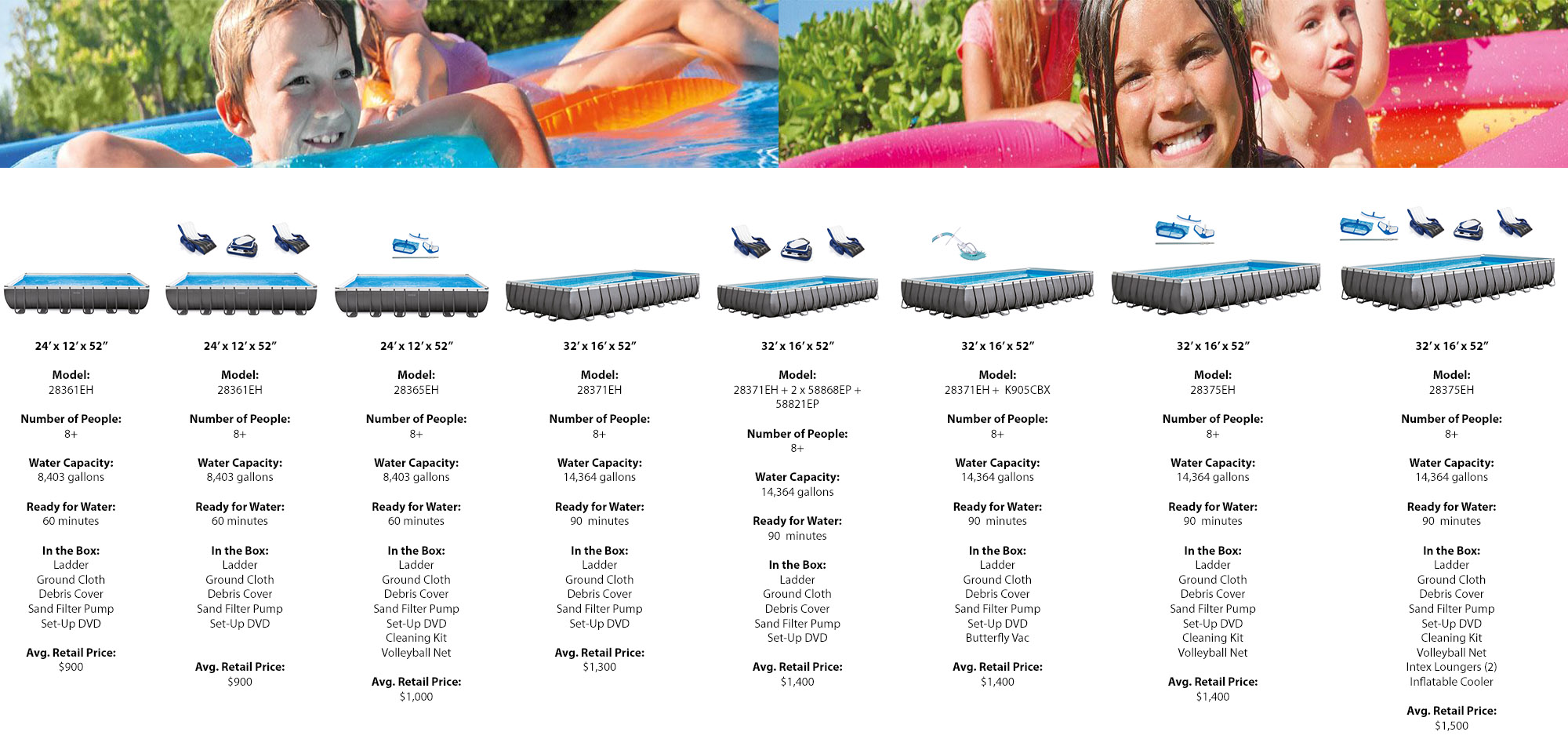 Links to pools shown above:
28361EH
28361EH
28365EH
28371EH
28371EH
28371EH
28375EH
28375EH
---
Cool pool accessories? Sign me up!
Pair your Intex Ultra Frame pool with floats and water toys that we think you'll dig. Follow your heart and it just might lead you to the inflatable pool float, raft, or ride-on of your dreams.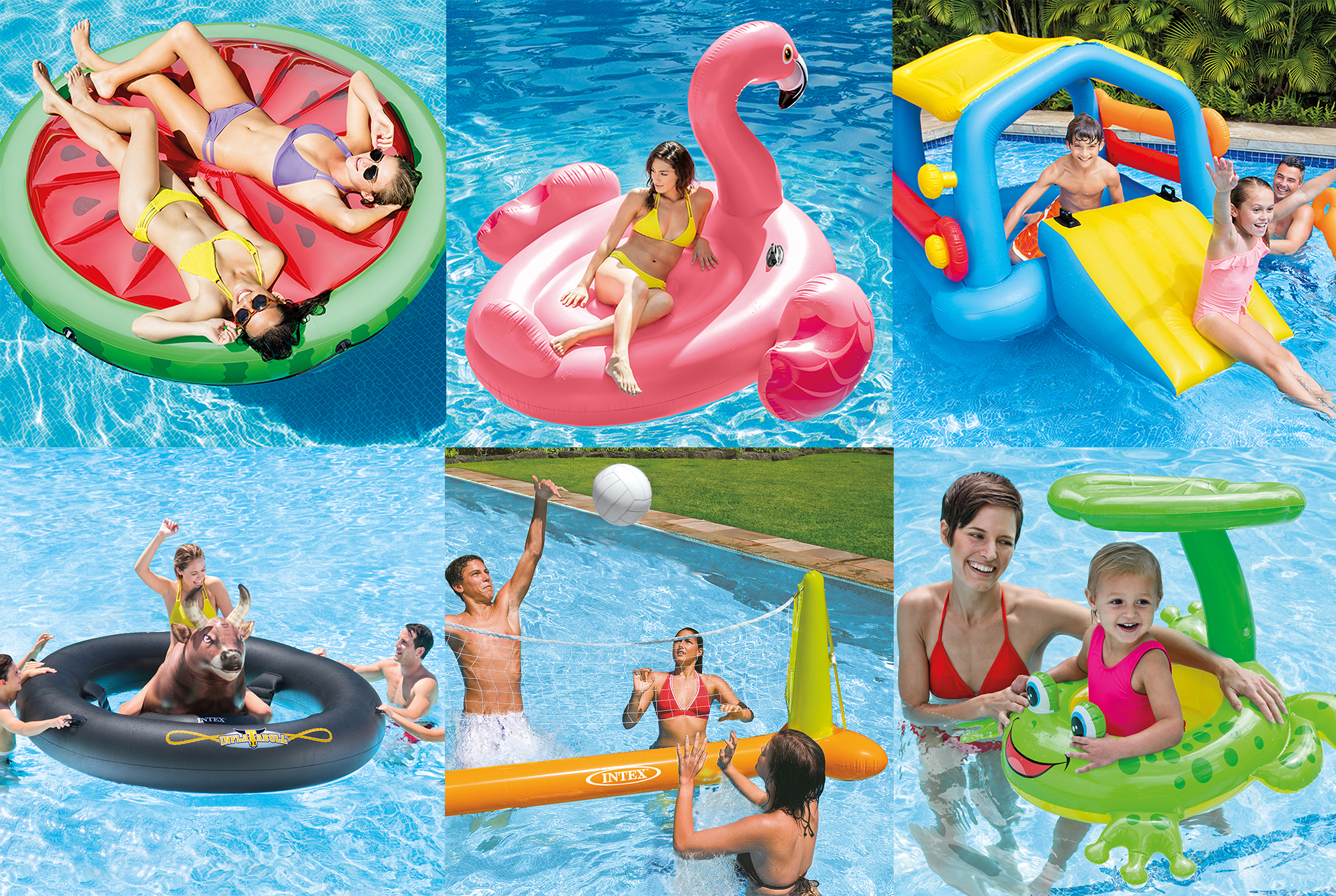 ---
Safe Swimming

---
More questions?
No problem! Contact one of our rock star agents on our Customer Experience team and a pool expert can help!
Phone: 866-639-9320
Email: help@vminnovations.com
Happy swimming!