ALL ORDERS PLACED BEFORE 2PM CST SHIP THE SAME DAY - FAST & FREE SHIPPING EVERY DAY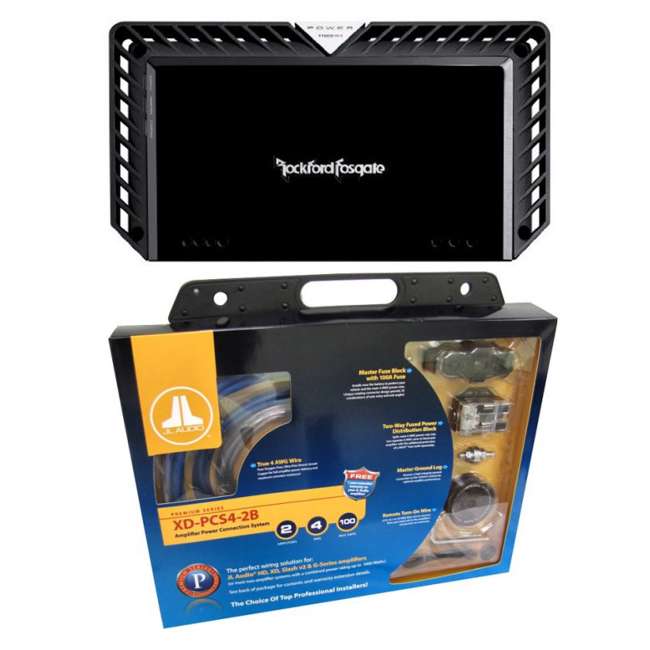 ROCKFORD FOSGATE T1500-1BDCP MONO Class-BD Car Audio Amplifier with Wire Kit
The ROCKFORD FOSGATE T1500-1BDCP 1500 Watt MONO Class-BD Car Audio Amplifier offers a TRUE power output of 1500 watts RMS! It conforms to CEA-2006 industry standards which mean the output power ratings are REAL POWER numbers, not inflated marketing ratings. Its Class-BD topology means it is 75-80% efficient vs. 20-60% efficient of class ab amplifiers, this mean more power from your amplifier with less drain on your vehicles electrical and charging system.
The Dynamic Thermal Management (DTM) evenly distributes excess heat across entire amplifier heatsink, DSM utilizes 1% tight-tolerances improving efficiency of the circuit, which decreases cross-talk from other discrete components and lowers operating temperature, and the Constant Power feature provides the ability to instantaneously deliver maximum output power to speakers without regard to its varying impedance while maintaining high-efficiency and thermal performance. The ROCKFORD FOSGATE T1500-1BDCP 1500 Watt MONO Class-BD Car Audio Amplifier will give you true, efficient thumping power!
This listing includes FREE JL Audio True 4 Gauge Car Installation Amplifier Kit!
We are an Authorized Rockford Fosgate Dealer!
Read the Owner's Manual here.
NEW ROCKFORD FOSGATE T1500-1BDCP 1500W MONO Class-BD Car Audio Amplifier
Total Power: 1500 Watts RMS
RMS Power:
1000 Watt x 1 Channel @ 4 Ohm
1500 Watt x 1 Channel @ 2 Ohm
1500 Watt x 1 Channel @ 1 Ohm
Dynamic Power (PVC/PowerCubeŽ Measurement):
1045 Watts x 1 @ 4-Ohms
1549 Watts x 1 @ 2-Ohms
1715 Watts x 1 @ 1-Ohm
24dB/octave crossover
MOSFET power supply
MOSFET output stage
4 Gauge power/ground terminals
Audiophile grade speaker connections
RCA pass-thru
Infrasonic filter
Specifications:
Number of Channels: 1
Bridgeable: No
Efficiency (average): 86.2% @ 4-Ohm, 74.6% @ 2-Ohm, 63.0% @ 1-Ohm
Crossover Controls: Low-Pass (LP): 35-250Hz 24dB/octave Butterworth
Tone Controls: Bass: 0dB to +18dB @ 45Hz
Infrasonic Filter: -3dB @ 28Hz 12dB/Octave
Signal Input: Low level: 1 RCA pair
Signal Output: Low Level: 1 RCA pair
Power Input Connector: Block
Power Wire Gauge: 4 AWG
Speaker Output Connector: Screw terminal barrier strip
Speaker Wire Gauge: 8 AWG to 18 AWG
Heat Sink Type: Cast aluminum
Cooling: Convection
Remote Controls: Optional Remote Punch Bass EQ (overrides built-in Punch Bass EQ)
Visual Indicators: Power, Thermal, Protect
Circuit Topology Class: Class-BD
Frequency Response: 20Hz to 250kHz +/- 0.5dB
CEA-2006 Compliant
Dimensions (HxWxL): 2.14 x 8.14 x 14.91 (in), 5.42 x 20.68 x 37.86 (cm)
Weight: 14 lbs
Condition: BRAND NEW!
Part Number: T1500-1BDCP
Warranty: 2 Year Manufacturer Warranty
Amp Kit:
Brand New JL Audio 4 Gauge Power Dual Amplifier Installation Kit
Power connection system for two amplifiers
Designed specifically for car audio systems up to 1000 Watts RMS
Premium power and ground wire provides optimal power transfer
Made from 100% oxygen-free copper for a pure uninterrupted transfer of power
Terminals are Nickel-plated for excellent signal transfer
Cable and wires are top quality and constructed to true American Wire Gauge (AWG) specifications
ANL or AFS Master fuse block holder offers ideal protection for Mid to High powered systems
True-to-Gauge cables/wires meet or exceed the industry standard of copper required for the gauge size
Master fuse block and a two-way fused distribution block included for convenient installation of amplifiers
Master ground lug included for a secure ground
Items included:

Frosted-Blue 4 AWG Tinned Power Wire (with one Power Ring) - 20 ft.
Frosted Blue 8 AWG Tinned Power Wire - 8 ft.
Clear 8 AWG Ground Wire - 8 ft.
Blue 18 AWG Remote Turn-On Wire - 20 ft.
ANL Master Fuse Block (XB-MFBU) - 150A Fuse Included
Master ground lug for a high-integrity ground (XB-MGLU)
Two-Way Fused Power Distribution Block (MAXI fuses sold separately) - XD-FDBU-2
Master Ground Lug - XB-MGLU
Four Phillips 3mm Stainless Steel Screws
Firewall Grommet for 2 AWG Wire
Black Nylon Cable Ties
4mm Hex Wrench
6mm Hex Wrench

Weight: 7 lbs
Part Number: XD-PCS4-2B
Condition: BRAND NEW!
Warranty: 3-year VMInnovations Warranty
Written by
BigDaddyKane
from Great Falls
on May 29, 2012
Strong amp here
Owned one of these on my 13.5 w7, my maxima got stupid loud, had some nice flex goin on to. Owned 2 but sold the other bnib one, wish I would have hooked it up first.
Would I recommend this to a friend or family member?
Yes
Pros
Safe
Simple to Set Up
Looks Good
Sturdy
Quality Construction
Written by
st0n3r
from 46360
on May 30, 2012
Awesome Amplifier
I bought this setup from VMInnovations and its provided far more pleasure than i could have expected. The birthsheet reads 1,893 watts at 1,2,4ohms stable across any load. Their pricing and customer service is awesome as well
Would I recommend this to a friend or family member?
Yes
Pros
Simple to Set Up
Looks Good
Quality Construction
Written by
Richard
from Marana, Az
on Jun 5, 2012
RF 1500
Very well built amplifier that comes with a birth sheet! There won't be any question to how much this amp will put out, because the birth sheet tells you exactly what it will do!!!
Would I recommend this to a friend or family member?
Yes
Pros
Simple to Set Up
Quality Construction
Have a question that's not answered here? Ask our team of product experts!
This will be visible to our community