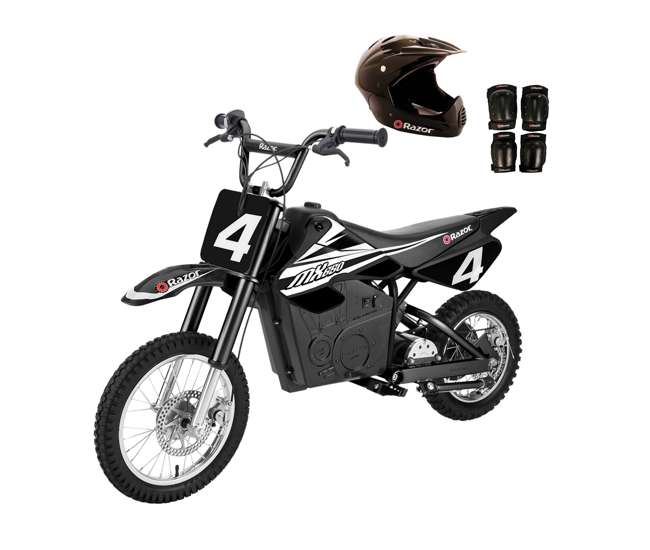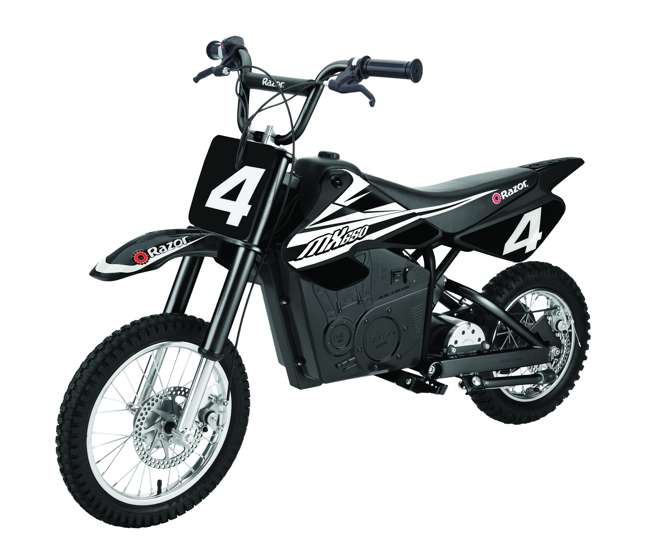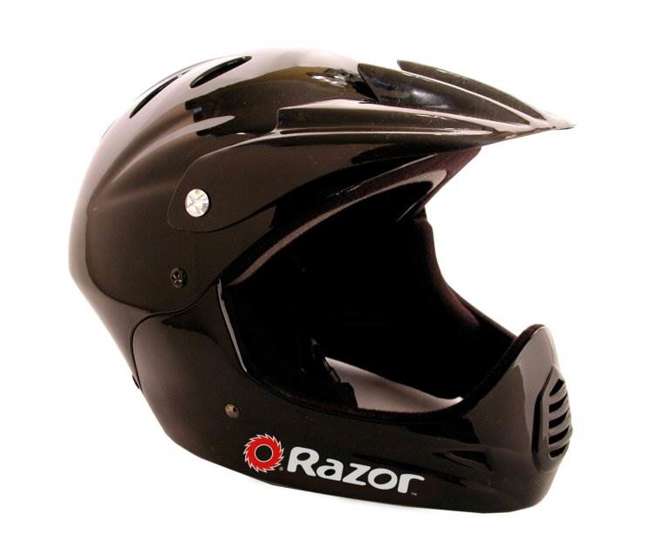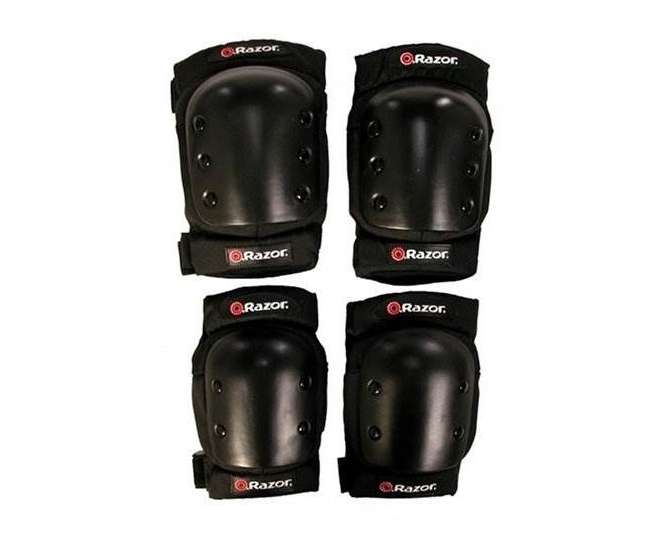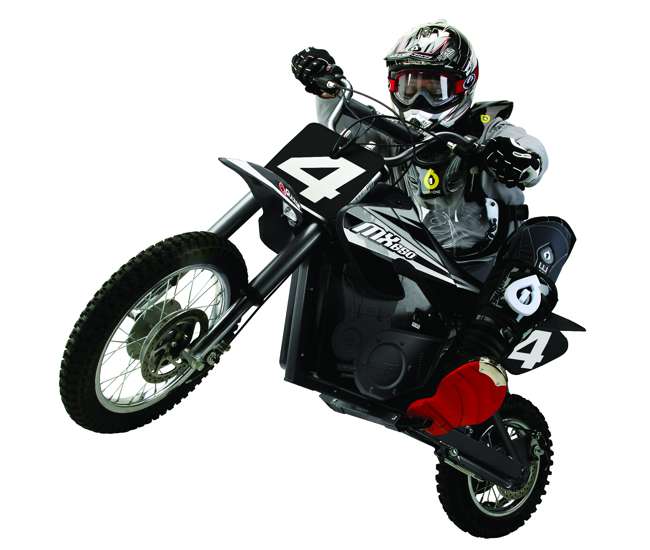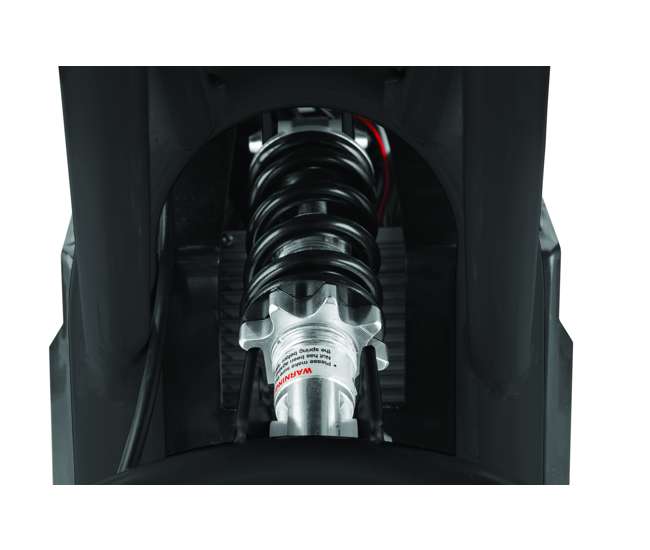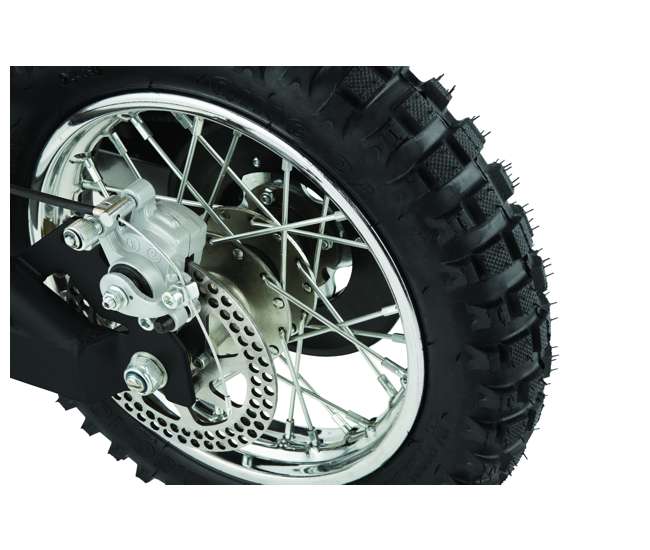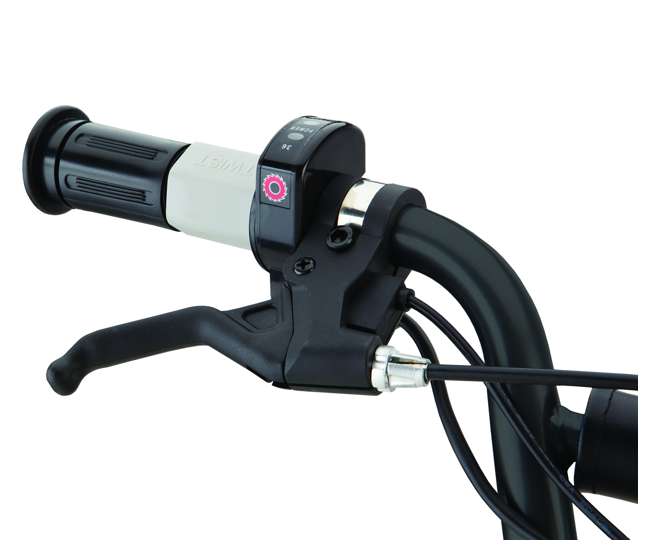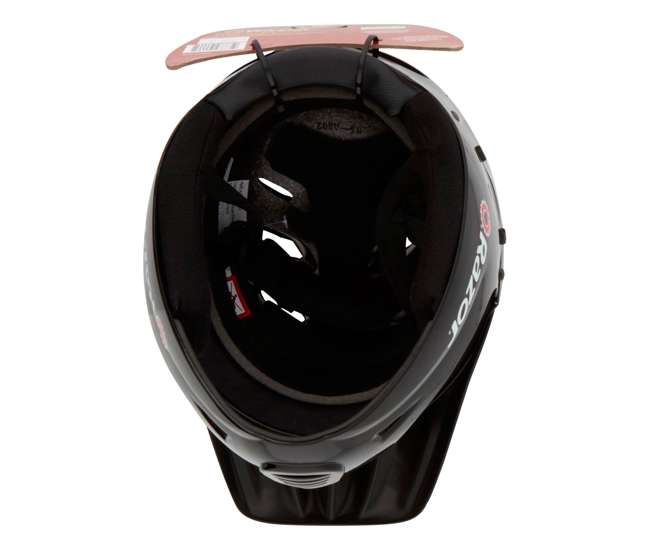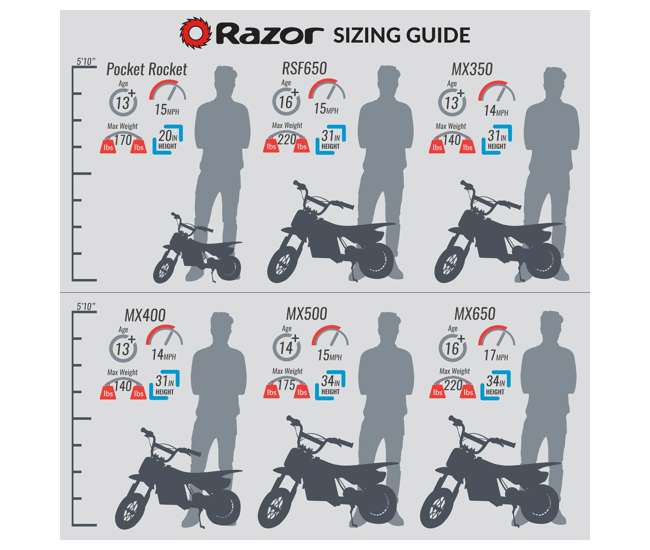 Razor MX650 Electric Dirt Rocket Bike + Youth Helmet + Elbow & Knee Pads
Was $699.99. You save $100.00!  
| | |
| --- | --- |
| SKU: | 15165001 + 97775 + 96785 |
| Brand: | Razor |
| Condition: | New |
| Delivery | |
| Quantity | |
Tear up the track just like a real Supercross rider with the Razor MX650 Electric Dirt Rocket Kids Motor Bike! This bike comes with a glossy black youth helmet and elbow and knee pads.
It might be for kids, but this bike packs a punch with a high torque, chain driven electric motor that achieves speeds of up to 17 miles per hour! This bike also comes with dual disc brakes and twist grip acceleration control.
After 40 minutes of use, recharge the Dirt Rocket with the included battery charger. This bike is constructed out of high strength steel and bears up to 220 pounds.
Hop on the Razor MX650 Electric Dirt Rocket Kids Motor Bike and blast off for non stop fun!97778
Ride your scooter, bike, or skateboard and rock this sporty, glossy black Razor V17 Youth Helmet to stay safe and protected.
Featuring 17 vents and ergonomic interior, this helmet provides safety while keeping the rider's head cool and comfortable. The sleek finish has a professional look when your little one pushes the limits on their bike, skateboard, scooter or whatever else they choose. 96785
Keep playtime fun and safe with this Razor Pro Elbow & Knee Pad. Featuring hard plastic slideable caps to deflect impact, heavy stitching and extra thick interior fleece provides a super comfortable barrier between your child's skin and the ground. Make sure playtime is filled with smiles and laughs instead of cuts and scrapes.
Great for biking, skating, scooter riding and more
Set includes two elbow and two knee pads
Dirt Rocket Motor Bike

Speeds up to 17 miles per hour
Up to 40 minutes of continuous use
Steel Construction
Variable speed, high torque, chain driven motor
Twist grip acceleration control
Hand operated dual disc brakes
Large 16 inch front and 14 inch rear pneumatic tires
Dual suspension and adjustable riser handlebars
Double crown fork
Retractable kickstand
Authentic Supercross dirt bike frame geometry
Folding metal foot pegs
Generates more power for uphill and off road conditions
Scaled down dirt bike design carries riders up to 220 pounds
For ages 16+
36 volt (3 12 volt) sealed lead acid rechargeable battery system
Battery charger included
Battery charge time: 12 hours
Some assembly required
Color: Black
Dimensions: 56 x 24.5 x 36 inches
Weight: 98 pounds
Part number: 15165001
Manufacturer warranty: 90-day warranty

Kid's Helmet

Make sure to keep your kids safe during outdoor playtime with the Razor V17 Youth Helmet
Great for biking, skating, scooter riding, and more
Ergonomic interior padding is comfortable and secure
17 top and side vents allows airflow and helps riders keep a cool head on hot days
Side release buckles adjust and fasten quickly
Color: Glossy black
Fits head sizes 22 to 23.5 inches
Complies with CPSC standards
Ages: 8 to 14
Part number: 97778
Manufacturer warranty: 1-year warranty

Elbow and Knee Pads

Elbow and knee pads for kids
Make sure to keep your little ones safe during playtime
Great for biking, skating, scooter riding and more
Set includes 2 elbow and 2 knee pads
Extra thick foam cushion of the Pro pads absorb contact
Soft fleece interior comforts and absorbs sweat
Large, hard plastic caps are slideable to deflect impact
Velcro straps are easy to get on and off
Heavy stitching and riveted caps provide durability
Ages: 8+ years
Part number: 96785
Manufacturer warranty: 1-year warranty