ALL ORDERS PLACED BEFORE 2PM CST SHIP THE SAME DAY - FAST & FREE SHIPPING EVERY DAY
Time Machine Not Included
Can I get a hot tub? Why yes, yes you can. Get cozy, relax, and indulge yourself in one of our Intex, Bestway, or Coleman portable, inflatable hot tubs.
Bubble therapy is in right now and you can treat yourself to a bubbly massage or just relax after a long day at the office in a Pure Spa, Lay-Z Spa, or SaluSpa air jet hot tub. Our inflatable hot tubs are ready for water in no time and allow you to pamper yourself in less than 20 minutes. Enjoy the luxury of a hot tub by yourself, with your friends, or as a romantic treat right in your own backyard. We have 4-person and 6-person hot tubs, hot tubs that come with filter cartridges, and even a hot tub and pool combination that would look killer in your backyard.
And what's better than a soothing hot tub? Relaxing in one with a cold drink and your favorite tunes. We also have a fine selection of accessories such as a Bluetooth entertainment center, drink holders, steps, towel racks, trays, head rests, and spa seats that make all of your hot tub dreams come true.
Escape to your oasis in a portable and affordable fashion any day of the week with an inflatable hot tub from VMInnovations.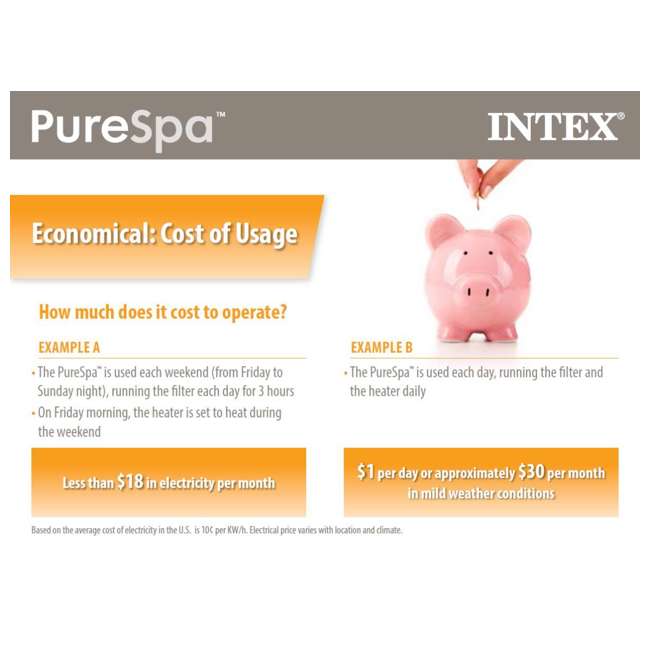 Intex PureSpa 4-Person Inflatable Portable Hot Tub Spa Package
Was $649.99
You save $58.00!
| | |
| --- | --- |
| SKU: | 28403E +3x29001E + 28500E + 28501E + 28004 + 28502 |
| Brand: | Intex |
| Condition: | New |
| Delivery: | |
| Quantity | |
Includes our everyday, fast & free shipping.
Relax and indulge yourself in the Intex PureSpa Portable Hot Tub. With the touch of a button activate the 120 soothing bubble jets that surround the interior of the spa or adjust the temperature that best suits your comfort level.
This Intex PureSpa Portable Hot Tub provides simple maintenance with two easy to replace filter cartridges for clean refreshing spa water, and the built in hard water treatment system makes water gentler on skin for a soothing experience.
Made with durable Fiber Tech™ Construction including 48 Fiber Tech™ beams, the PureSpa is also strong enough to take a seat on the side when all you need is a dip of your feet.
The perfect accessories for your PureSpa, the Intex PureSpa Headrest, Cup Holder, and Seat. The inflatable, easy to remove headrest adds additional support for your neck as you indulge in your PureSpa. Designed to be placed on top of the spa wall. Weighted down (when filled with water) to secure the headrest in place.
Add the convenience of having your drink right by your side while you relax in your PureSpa with the Intex PureSpa Cup Holder. The PureSpa cup holder and refreshment tray is designed to securely attach to the spa wall. Made with the same color scheme and a contoured shape to fit around the spa; Removable for convenience.
This slip resistant PureSpa seat allows you to sit comfortably in the spa and gives you added height with two different height options. Made with the same color scheme and a contoured shape to fit around the spa; Removable for convenience.
Keep your PureSpa clean and long lasting for years to come with the Intex Spa Maintenance Kit. This maintenance kit works well for all spas and includes a brush, mesh skimmer, and scrubber pad.
Intex PureSpa Portable Hot Tub

Pamper yourself in relaxing heated water surrounded by soothing bubble jets
The PureSpa provides relaxation at the touch of a button for up to four people
The easy to use control panel activates the 120 high powered bubble jets surrounding the interior of the spa for a refreshing massage
This inflatable model is ready for water in about 20 minutes and can be deflated for easy storage or transport (pump included)
Unlike other spas that have cold air bubbling through water during the heating process, the PureSpa heats the air prior to bubbling through the water which heats the water more effectively
PureSpa provides simple maintenance with two easy to replace filter cartridges for clean refreshing spa water. Replacement filters sold separately (stock # 29001E)
The built in hard water treatment system makes water gentler on skin for a soothing experience, and enhances the longevity and quality of your system
The Fiber Tech™ Construction and the puncture resistant three ply laminated material provide the ultimate comfort, support, and durability
48 Fiber Tech™ beams provide a firmer and more supportive wall than similar spas
Efficient heating keeps the cost of usage low
An insulated cover and lock is included to minimize heat loss, and provides an added safety feature
Heavy duty grab handles makes transportation easier for transportation
Thick thermal protective ground cloth helps minimize heat loss and protects the bottom of the spa
A durable carry bag is provided for easy storage and transport
Approximate inflated Inner/Outer Diameter: 58" / 75" Height: 28"
Seating capacity: Up to four adults
Water capacity: 210 gallons
Water temperature range (68° – 104°)
PLEASE NOTE: Initial heating may take up to 12 hours. Factors such as outside temperature/conditions may lengthen or shorten warming time.

Complete Package Includes:

PureSpa Tub Unit
Insulated Cover
Heating System
3 way water test strip
10W Hard Water System
Filtration System with 2 filter cartridges (stock # 29001E)
Floating Pool Chlorine Dispenser
Thermal Ground Cloth
Inflation Hose
Durable Carry Bag
Convenient Grab handles
Cover straps with child security lock
Item #: 28403E

Intex Filter Cartridge Type S1 Six Pack

Genuine Intex Type S1 filter cartridge
The S1 Cartridge Filter is sure to keep your PureSpa™ Jet Massage water clean and fresh
It is made with easy to clean, heavy duty Dacron paper, for the ultimate filtration
For maximum efficiency, clean cartridges each week and replace once a month or sooner
Item #: 29001E

Intex PureSpa Headrest

The convenient spa headrest allows you to comfortably rest your head while you relax in the soothing spa
Can be partially filled with air to fit your personal preference for firmness
Removable for convenience
Dimensions: 15 3/8"(L) x 11 3/4"(W) x 9"(H)
Part #: 28501E

Intex PureSpa Cup Holder

Keeps beverages and snacks close by while you relax
Holds 2 standard size beverage containers
Designed to securely attach to the spa wall
Removable for convenience
Made with laminated material
Dimensions: 10.25"(L) x 8.6"(W) x 7"(H)
Part #: 28500E

Intex PureSpa Seat

The PureSpa seat allows you to sit comfortably in the spa while you relax in the soothing bubbles
Two different height options, 3" and 5.8"
Removable for convenience
Made with laminated material
Dimensions: 18.5" X 14" X 8.6"
Part #: 28502E

Intex Spa Maintenance Kit

Perfect tool for all spas
Includes curved brush for inner sidewall care
Durable mesh skimmer net helps fish out leaves and other debris
Scrubber pad helps removed dirt and grime
Part Number: 28004E

https://www.vminnovations.com/sys/resource.ashx?guid=0adefed671ad4e48a0bd44498704cdc3
Manufacturer warranty: 1-year warranty