ALL ORDERS PLACED BEFORE 2PM CST SHIP THE SAME DAY - FAST & FREE SHIPPING EVERY DAY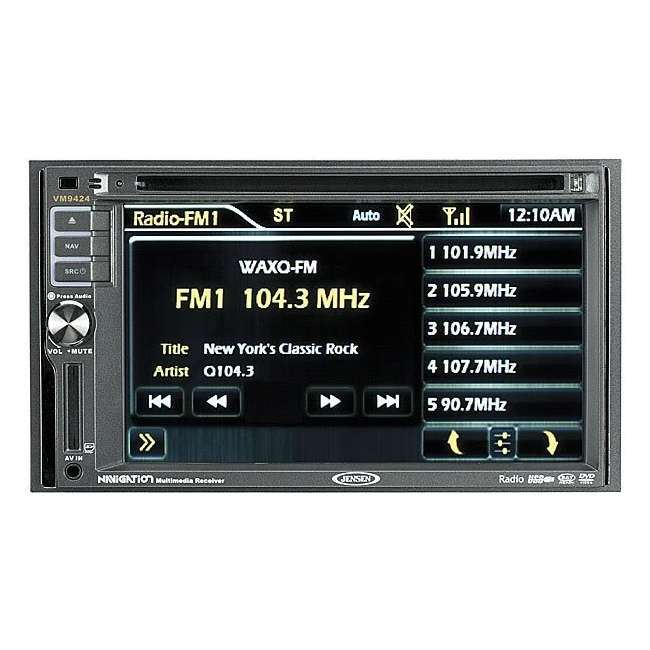 Jensen VM9424 CD/MP3/DVD/iPod Player w/ Navigation
Was $539.99
You save $155.00!
| | |
| --- | --- |
| SKU: | VM9424 |
| Brand: | Jensen |
| Condition: | New |
When deciding its time to upgrade your factory stereo, the Jensen VM9424 Double DIN multimedia player will provide excellent audio and video playback as well as GPS navigation at the touch of a button. With this moderately sized 6.2" touchscreen LCD display, the features and customizations are simply at ease.
Eleven built-in equalizer presets enables you to customize your sound so you can add more variety to your system based on your music preference. Instead of using an AM/FM transmitter or tape adapter, this unit offers the MediaLink accessory that provides easy controlling for your iPod/iPhone or other MP3 players.
With over 11 million points of interest, you can easily find your favorite restaurants, hotels, gas stations and more. Selectable color modes help improve visibility for day or night time driving, assuring you can always see your map display. Using Tele Atlas database, this system keeps your maps up-to-date with the highest quality and most reliable digital maps for all of the continental United States as well as Alaska and Hawaii.
The Jensen VM9424 has the option for either 2D or 3D mapping, this feature allows you to view your map in 2 dimensions (having a flatter look) or view your route in 3 dimensions which has a more of an expansive environment. With the 2D or 3D feature, you can also choose a split-screen mode which displays both. An additional "look ahead" feature enables the GPS software to give an extra search option to check for any misspellings when keying in your destination.
Being able to search by different criteria is always a better advantage when it comes to GPS systems. This unit offers many different search methods to get to your destination. Whether you know the exact address of the location or even the coordinates, this GPS will find the way. It allows many saved entries for favorites for future travels as well as a list of your recent history. When traveling to a new destination it is always important to make sure you don't miss that last exit. When the time comes that you do miss your turn, this unit will automatically re-route so you can reassure you will arrive at your destination worry free!
We are an authorized Jensen dealer
Brand New Jensen VM9424 In-Dash DVD CD MP3 Multimedia Player

6.2" TFT active matrix LCD: 336,960 sub pixels (1440W x 234H)
CD-text compatible
MP3 ID3 tag display
Directory search: MP3/WMA only
Direct tract access via remote control
Play up to 1500 MP3 and WMA files from a DVD+/-R/RW
Random, repeat and intro
Play, Pause, stop, next track and previous track
MP3 playback via SD/USB
USA and European frequency spacing
30 station presets: 18 FM and 12 AM
iPod compatible: iPod via USB
High speed direct connect interface to access iPod playlists, artists, albums and songs
Play music and view video files from iPod: video playback requires jLink-USB cable (sold separately)
Power management charges iPod while connected
MediaLink USB: 3.5mm AV input and USB input
Built-in Navigation: 11 million points of interest, Maps preloaded on a flash based 2 GB SD card for fast access
Bluetooth ready: compatible with Jensen BTM15 (sold separately)
Two composite video output for additional screens
Front panel 3.5mm audio/video input
Rear USB input: connect to MediaLink USB for extended USB and 1/8" AV input
Three band tone control (Bass, Mid and Treble) with 11 preset EQ curves
Treble, Mid selectable center frequency with quasi parametric bass EQ
Front, rear and subwoofer line output
Programmable volume control
Rear camera input: normal and mirror image view
2VRMS line output: all channels
Rotary encoder volume control
Heat management system enhances sound quality by providing cool air to the unit for nominal temperatures
SWC interface: compatible with PAC SWI-PS steering wheel control interface (sold separately)
Maximum output power: 40 watts x 4-channels
RMS output power: 13 watts x 4-channels
Remote Control Included

Condition: BRAND NEW
Part Number: VM9424
1-year Audiovox Warranty
Written by
C.G.
from Durham NC
on Oct 17, 2010
Great head unit - Can't beat the price
Installation was easy when you purchase vehicle specific wiring adapters.  The head unit has easy menus to manuever and they are logically placed and designed.  The navigation software is easy to use.  There are only 2 problems that I have fond thus far.  If you have a amp that needs a power signal to turn on, the wire labled P.cont is for that purpose, but it is not clearly documented.  The other problem is one of ease of use.  The navigation POI feature does not have a readily available search for POIs in the imediate vacinity of the current position.  You need to search a bit to find that info.
Other than those 2 issues, I am completely pleased with the head unit.
Would I recommend this to a friend or family member?
Yes
Written by
joe
from blauvelt, ny
on Jan 13, 2011
Verified Buyer
Excellent choice for the money
Great Price and the navi works great easy to use and input info.  also gps grabs a signal within 1 minute.  i like the unit alot.
Would I recommend this to a friend or family member?
Yes
Pros
Simple to Set Up
Looks Good
Written by
tonyroma
from new york city
on Dec 6, 2010
Verified Buyer
poor quality
i purchased this unit within two days the screen gets blurry,i was sent a replacment unit and the screen did not light up at all.i believe there is an issue with this jensen product.they do not factory test these units poor,poor quality controll
Would I recommend this to a friend or family member?
No
Written by
jonathan
from Fort Worth
on Apr 3, 2011
Impressive
Plesantly suprised by the quality and quantity of features available and the ease of installation and expansion.  Highly recommended best bang for the buck for built in navigation.
Would I recommend this to a friend or family member?
Yes
Pros
Simple to Set Up
Looks Good
Sturdy
Quality Construction
Written by
New Jensen Fan
from Fort Drum, New York
on Apr 5, 2011
Best Stereo I've ever owned
Installing this was the easiest that I've ever done. I really like all of the functions and accessories are easy to find at great prices if you look online. It didn't cost very much to order the steering wheel control, bluetooth, and Sat radio modules. I find the built in navigation to be much better than my TomTom was. I wish that I hadn't waited so long to purchase this and the quality of Jensen is equal to other systems but much better value. I've owned Kenwood, Pioneer and various other brands before but now I'm a big fan of Jensen!
Would I recommend this to a friend or family member?
Yes
Pros
Simple to Set Up
Looks Good
Sturdy
Quality Construction
Easiest install ever
Have a question that's not answered here? Ask our team of product experts!
This will be visible to our community