ALL ORDERS PLACED BEFORE 2PM CST SHIP THE SAME DAY - FAST & FREE SHIPPING EVERY DAY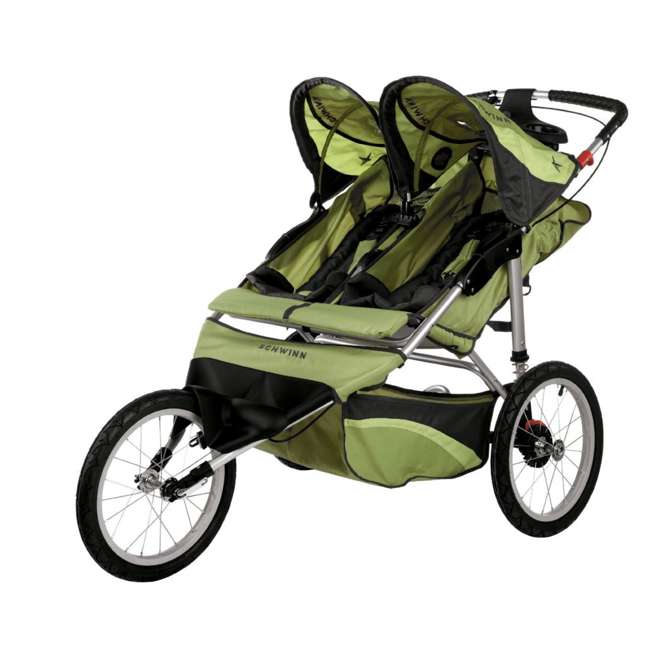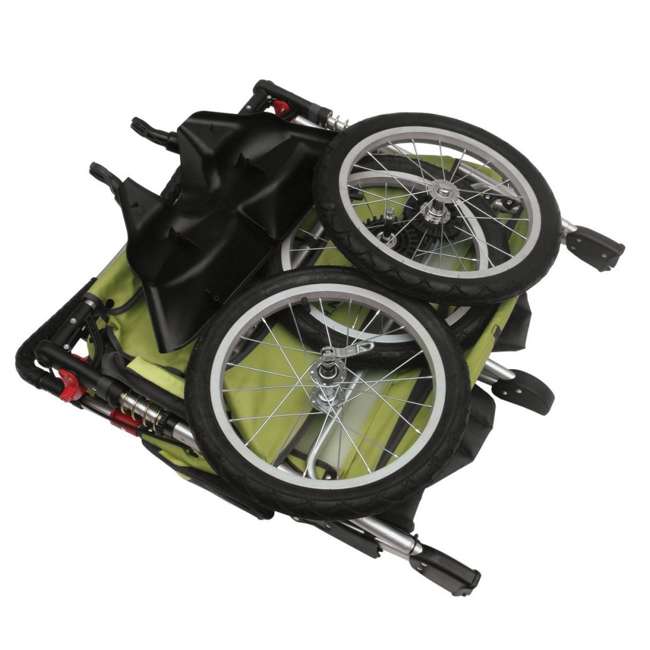 Schwinn Arrow Double Jogging Stroller | SC212
Was $268.95
You save $41.00!
| | |
| --- | --- |
| SKU: | 13-SC212 |
| Brand: | Schwinn |
| Condition: | New |
Whether it's a short trip across town or time to get back in shape, the Schwinn Double Jogger is ready to take you and your little passengers on your next adventure. Featuring a lightweight and rust-resistant frame, the Arrow SC212 is built for years and miles of use. Kids and parents alike will appreciate features like an over-sized, individual canopies with sun visors, cozy removable seat pads and durable rear suspension to take on unexpected terrain. You'll love its lightweight design, and your little ones will enjoy singing along with its built-in speaker and MP3 music player.
Bicycle-style hand brake gives stopping power
Improved 5 pt. harness
Rubberized, adjustable handle is comfortable and slip resistant
Schwinn Double Jogger (Arrow SC212):
Aluminum Frame is Lightweight for Easy Handling
16" Pneumatic Tires with Aluminum Rims Provide Optimum Performance and Style
Large Under Seat Basket
Molded Parent Tray with Two Cup Holders Adds Convenience
Dual Trigger Folding Mechanism Offers Uncompromising Safety
Rubberized, Adjustable Handle is Comfortable and Slip Resistant
Bicycle-style Hand Brake Gives Stopping Power
Roomy and Comfortable Interior
Improved 5 pt. Harness
Exposed Spring Suspension Delivers a Smooth Ride - NEW
Built-in MP3 Speaker Keeps Child Entertained - NEW
Product Number - 13-SC212
Color: Green and Gray
Weight: 24 lbs
Max Weight Limit: 50 lbs per child (100 lbs total)
Dimensions:

40.5"L x 32.25"W x 54"H (unfolded)
35.75"L x 32.25"W x 19.5"H (folded)

Warranty: Five year Schwinn warranty against product defects
Written by
Super Sarah Mom
from Madison, WI
on Sep 7, 2011
Verified Buyer
Light Weight, Good Quality, For Serious Joggers
I am starting to train for a marathon and with 2 kids under 2, I needed a jogging stroller that was light weight enough to make training managable.  This stroller is approx 12 lbs lighter than another jogger I had.  I also prefer the stationary front wheel because of the constant running I am doing.  The fixed wheel would not be good if you planned on using this in a recreational sense fulltime.  Ordering, delivering and set up was all a breeze.
Would I recommend this to a friend or family member?
Yes
Pros
Safe
Simple to Set Up
Looks Good
Sturdy
Quality Construction
Light Weight
Written by
Momof2Monkeys
from Pennsylvania
on Oct 26, 2011
Definately good
I bought this stroller right after we had our second child. I have the Jeep Overland Single Jogger, and that was my favortie thing ever. I was hoping to get something similar when i ordered this stroller, and i definately did. This jogger, despite being a double meant for 2 kids, is pretty lightweight. There is plenty of room for both kids to sit, relax, or even curl up when it's cooler. They are both very comfortable while riding in it, and sometimes we are out for up to 2 hours jogging. The storage underneath isn't huge, but it is enough to carry the essentials. And it's not as wide as you would think a double stroller would be, it actually fits through the aisles in most stores at the mall.
The only downsides i can see about this stroller are 1) The speakers are small. In my old stroller the speakers were large and both my oldest and I could hear the music. In this one, there is a speaker on each side for each kid to be able to hear, but i can't hear it as well. I think they are easily replaceable though. 2) There is no pedometer to tell you how far you've gone.
I would definately recommend this stroller to anyone with 2 kids though.
Would I recommend this to a friend or family member?
Yes
Pros
Simple to Set Up
Sturdy
Comfortable for kids
lightweight
Cons
Speakers too small
No pedometer
Written by
happy mom of 2
from Fairfield, CT
on Apr 24, 2012
BUY IT!
I bought the Schwinn Arrow Single Jogger when I only had one child and we loved it.  It got used and abused on the jogging trails and survived airport travel too.  When baby #2 arrived it was a no brainer to get the Schwinn Arrow Double Jogger.  In no time you can put it together and head outside for your first jog with your very happy children in toe.  My oldest is almost 3 and has no trouble fitting in the seat confortably next to her 8 month sister.  No more discussion, just buy it!  Simple to use - lightweight too.
Would I recommend this to a friend or family member?
Yes
Pros
Safe
Simple to Set Up
Looks Good
Sturdy
Quality Construction
Written by
crystal
from illinois
on May 14, 2012
great stroller major flaw
The only problem i have with this stroller is that the adjustable reclining seat dont lock tight in the upright position. EVER time I try to sit up my 16lb baby the seat ALWAYS reclines on its own. The locking mecanism doesnt work or even support a tiny baby!!
Would I recommend this to a friend or family member?
No
Cons
Bulky
adjustable recine feature
Written by
Andi
from Virginia Beach, VA
on Nov 4, 2012
Great running stroller
I am a serious runner, but did not want to pay a ton of money for a running stroller when I had a second child. This stroller has been great!  I started my new baby in it after a month and my son was 3 years old.  Both children fit well into the stroller and it has been so helpful so that I could get back into shape and run races with both children. My son is 4 years old and tall and my daughter is now a year old and I can still run with both of them in the stroller. My son's shoulders are getting wider and the stroller seats are more narrow, so he may not be able to be in it for much longer, but it has been so helpful and I love running with them in it!   It is light and easy to use and the balance is great even though my son is about 50 lbs on one side and my daughter is around 20 on the other.  The only downsides to this stroller are that it is bulky to use for everyday use and traveling, but if you want a good running stroller, this is your best choice for the money.   
Would I recommend this to a friend or family member?
Yes
Pros
Easy to Use
Safe
Simple to Set Up
Looks Good
Sturdy
Quality Construction
Have a question that's not answered here? Ask our team of product experts!
This will be visible to our community