ALL ORDERS PLACED BEFORE 2PM CST SHIP THE SAME DAY - FAST & FREE SHIPPING EVERY DAY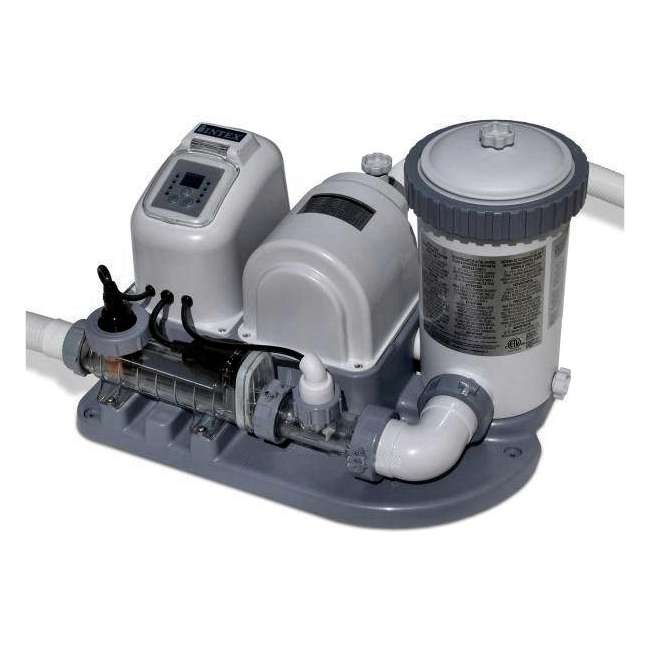 Intex Krystal Clear Saltwater System & Filter Pump
| | |
| --- | --- |
| SKU: | 54611E |
| Brand: | Intex |
| Condition: | New |
The Intex Krystal Clear Saltwater System is the eco-friendly pool water sanitizer. The Intex Krystal Clear Saltwater System eliminates the need for dangerous, harsh packaged chlorine while dramatically improving pool comfort. The Copper Ionization feature reduces chlorine levels by 70% when compared to standard saltwater systems. Automatic self-cleaning cycle lengthens cell life and reduces the need for manual cleaning. Set operating time once and the system will automatically run on a 24-hour cycle. Water flow sensor and diagnostic read out with auto shut-off, alerts operator when a problem occurs and protects system from damage. Keypad locks to prevent programming from being accidentally changed.
Filters & chlorinates 2,000 gallons per hour by two-stage process of saline conversion chlorination
Add the specified amount of salt directly into the pool
Flow sensor system alerts operator to adverse operating conditions
Intex Krystal Clear Saltwater System:
Filters & chlorinates 2,000 gallons per hour by two-stage process of saline conversion chlorination
Fits all 15', 16', 18' and 24' Intex Easy Set™ Pools, Frame Set™ Pools, Soft Side Pools and Ellipse™ Pools as well as Aqua Leisure™ Simple-Set™ pools and San-N-Sun™ brand pools with 1.25" and 1.50" inside diameter hose connections
No chemicals needed This amazing pump uses common table salt to produce chlorine thereby eliminating the need for dangerous chlorine chemical compounds, acids, shock treatments or any other toxic pool chemicals
A two-stage process uses copper ionization to disinfect ions while converting salt to natural chlorine, creating an aggressive biocide to attack pool algae better than any product on the market.
Safe to operate This pump design has been tested, listed and certified by UL & CSA
Add the specified amount of salt directly into the pool
Includes hose attachments and electrical cord
Touch-sensitive control panel allows user to pre-program operating hours - 24 hour auto clock
Flow sensor system alerts operator to adverse operating conditions
Keypad locking system ensures settings are not changed accidentally
Easy to use test strips (50 count) included to check performance and maintain the perfect level of salinity in your above ground swimming pool
Easy set-up video included
The continuous introduction of liquid chlorine will ensure the continuous sanitization of the pool's water and will not allow the growth of algae. When the liquid chlorine has destroyed the bacteria in the pool, it reverts to salt. This means that the salt is continually regenerated in the process and the only loss of salt is due to backwashing, splash-out and overflow. It may be necessary to add salt to the pool water to bring the concentration back to the desired level of 3,000 parts per million
This form of chlorination will not damage your pool Chlorine "tablets" or "powder" can damage the pool liner while saline conversion will not. Also, the mildly salted water will not affect the PVC plumbing, filters or pump
Saline chlorination is easier and safer You will not need to buy or store any dangerous chemicals as you would for a pool with an out-dated conventional filtration pump. You will not need to "shock" this pool with raw chlorine as you would with older pools. Plus, the chlorine generator is self-cleaning which makes it 100% maintenance free
Item Weight: 46 lbs.
Product Dimensions:16.9 x 16.5 x 25 inches
Manufacturer Part Number: 54611E
Condition: NEW
Warranty: 2 Year Manufacturer's Warranty



Written by
apluvsu
from Wilmington NC
on Mar 7, 2011
The best Invention ever!!!
Folks by the time I get thru telling you about this awesome pice of equipment you will say "Oh yeah, she works for the company." Wrong. I am a 65 yof and I had a pool before but could not take care of it because it was too hard for me. I found one of these things on Craigs List for $100.00 (Used of course). Best thing that has ever been invented. What on earth took someone so long?
You put in your salt and walah. Of course I had to do a lil extra due to having rusty water. i.e., Shock, Chlorine etc. After I got rid of the rust I was home free. I am going to buy this thing again due to my grandson putting a thick sock in the skimmer and burnning up my motor.
I would not dare to be with out one, Could not be without one and could not have a pool without one!. I also bought one of those automatic vacuum things that you just put in the water and let it do it's thing.Both of them are an absolute necissity for me to have a pool. The salt chlorinator will pay for itself in no time at all. Trust me...I can't say enough good things about it.
Also I have been searching for this al wineter and this is the cheapest of any place I have found PLUS the free shipping which I have seen for $40.00 and more on other sites.
Well I have done the home work for you so all you need to do it give this thing a try and you will not regret it one bit. You will be patting yourself on the back and very proud that you made this purchase.
No I do not work for this company or for any company for that matter. Just trying to give you a heads up on some help for taking care of your pool. I hope you appreciate my time in doing so and please excuse all mistakes.
Would I recommend this to a friend or family member?
Yes
Pros
Safe
Simple to Set Up
Looks Good
Sturdy
Quality Construction
Every Pool needs one
Cheaper than chemicals
Cons
Absolutely none whatsoever
Written by
paulg
from East Northport, New York
on Aug 18, 2011
Verified Buyer
GO EAST, GO CLEAN, GO WITH SALT!
I was very hesitant to order a salt water sytem since I never had a pool to take care of. But I have to admit it. This salt water sytem and pump was very easy to set up and even came with a dvd as well as a manual. The function of the salt water system was the reason I set up a pool. I tried others before that needed chlorine and it constantly had to be checked, maintained,. and still turned green. So far my system is running smooth for the past 4 wks now. I HIGHLY recommend anyone who is setting up a small pool for their kids to convert over to a salt water sytem. It is clean , easy and virualously hassle free!!  ALSO, vminnovations.com was a pleasant place to order it from and had the best price around. They shipped it right out and had no problems. WATCH OUT JAWS! Here comes the Intex Krystal Clear Saltwater System & Filter Pump!!
Would I recommend this to a friend or family member?
Yes
Pros
Simple to Set Up
Quality Construction
Written by
KitKatt
from Jacksonville, AR
on Jun 27, 2012
Verified Buyer
Great Easy system
This really is an awesome product. My family has had an Intex pool (5000 gallons) for years but the maintenance was a lot with the chlorine. I have been using this system for a month now and love it. It was a little tricky as far as the salt ratio (110lbs, don't worry, pool salt is cheap and can be bought in bulk bags) but after a few days we got it perfect. I have and would recommend this product to anyone with an above ground pool. 
Would I recommend this to a friend or family member?
Yes
Have a question that's not answered here? Ask our team of product experts!
This will be visible to our community