Swimline Hydrotools 8725 Swimming Pool Adjustable Floating Chlorine Dispenser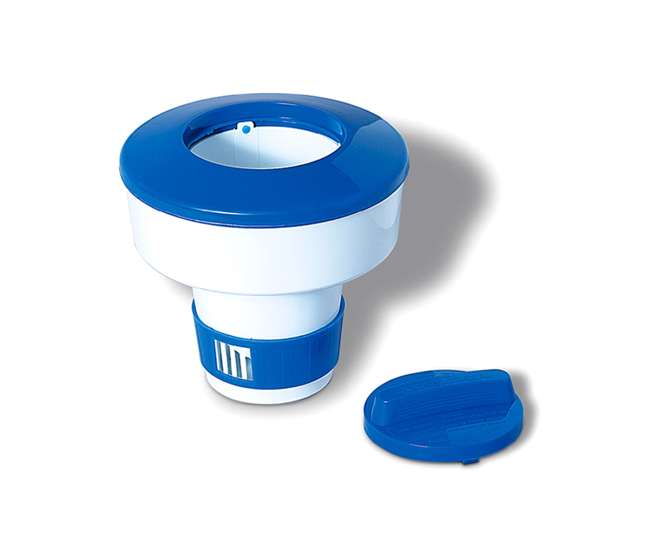 Swimline Hydrotools 8725 Swimming Pool Adjustable Floating Chlorine Dispenser
(1 Review)
$8.24
Includes our everyday, fast & free shipping
Product Details
A floating pool chlorine dispenser is designed to dispense just the right amount of chlorine into the pool water. Floating pool chlorine and bromine dispensers can accommodate one inch bromine tablets, one inch and three inch chlorine tablets and chlorine sticks which provides great flexibility of use. A floating pool chlorinator can easily be adjusted to feed chemicals into the water at a specific rate, allowing pool owners to address the specific needs and demands of their particular swimming pool. With the help of a floating chlorinator for swimming pools, pool sanitization and maintenance can be more convenient and far less time-consuming.
This adjustable dispenser is easy to use! We are an Authorized Swimline Dealer!
Features
Large-capacity floating chlorine dispenser designed to make pool maintenance easier
Heavy-duty design holds either 1-inch or 3-inch chlorine tablets
Has a locking cap and adjustable control ring
Crafted out of resistant plastic for many seasons of use
Great for use with large 3-inch or small 1-inch chlorine or bromine tablets and sticks
Pool compatibility: Above ground, in-ground
Features: Locking cap
What's included: Chlorine dispenser
Dimensions (L x W x H): 7 x 7 x 8 inches
Weight: 0.5 pounds
Manufacturer warranty: 1-year warranty
Reviews
great product, great price
a great value pool floater
Would I recommend this to a friend or family member?
Yes
Pros
Easy to Use
Simple to Set Up
Looks Good
Sturdy
Quality Construction