ALL ORDERS PLACED BEFORE 2PM CST SHIP THE SAME DAY - FAST & FREE SHIPPING EVERY DAY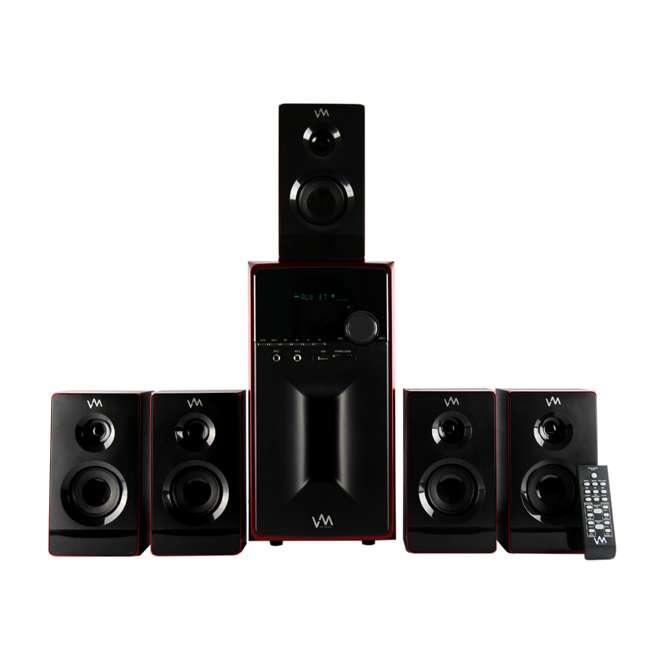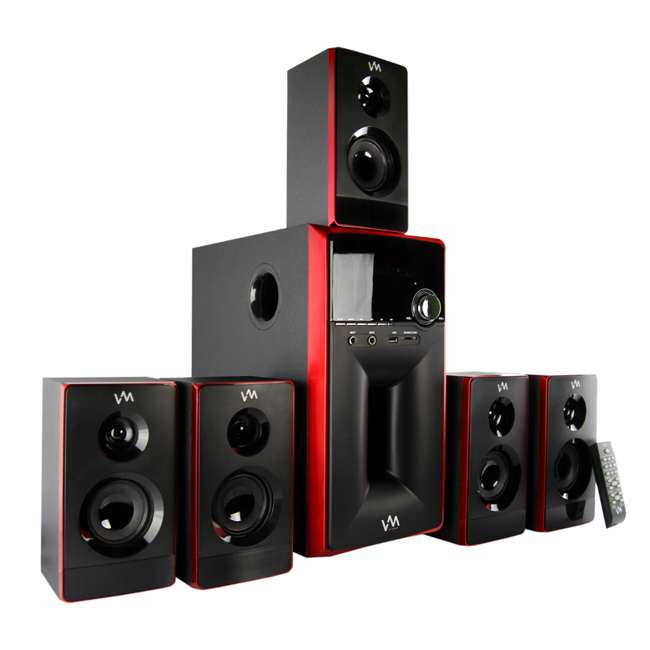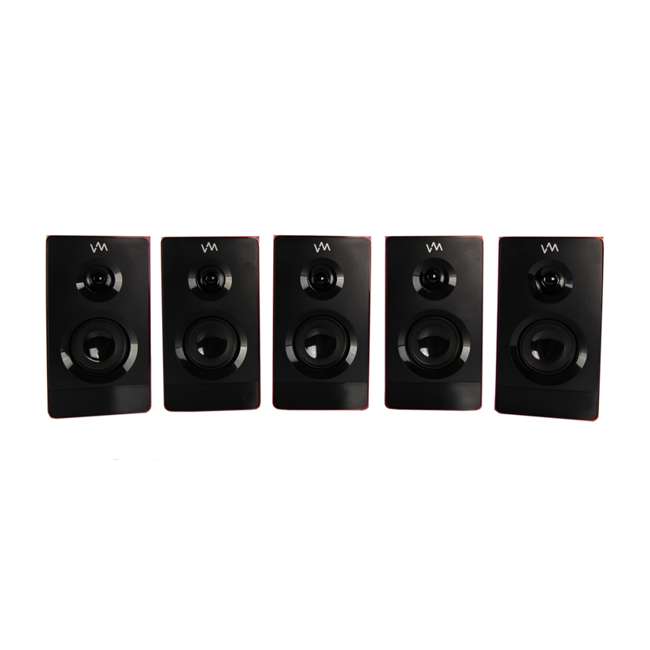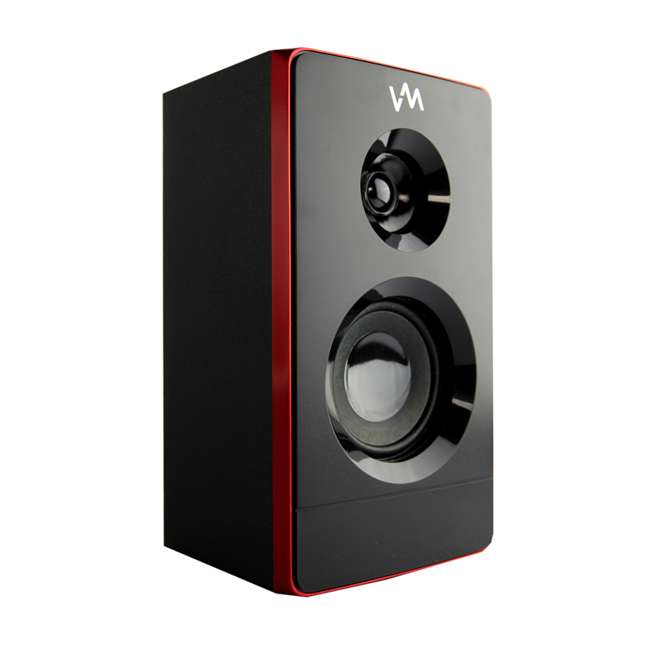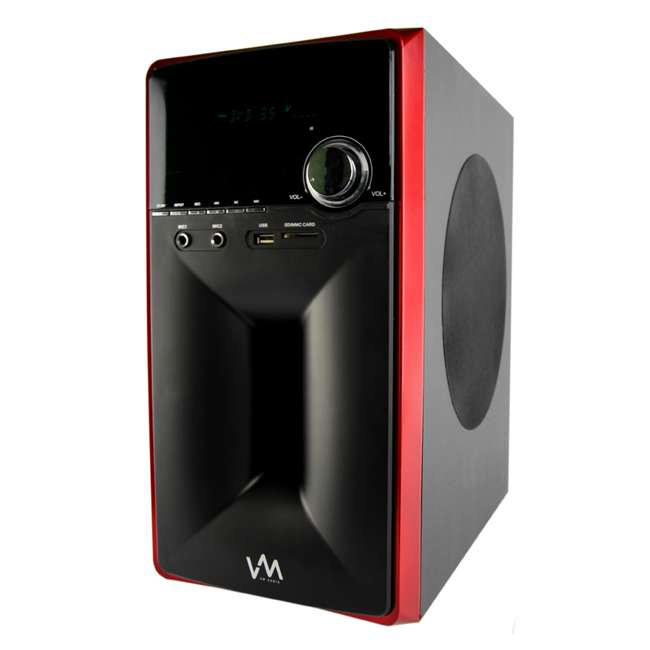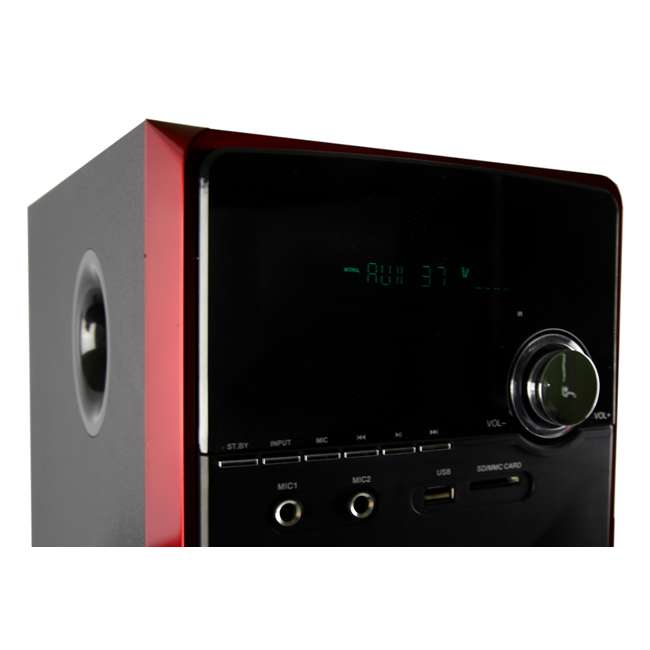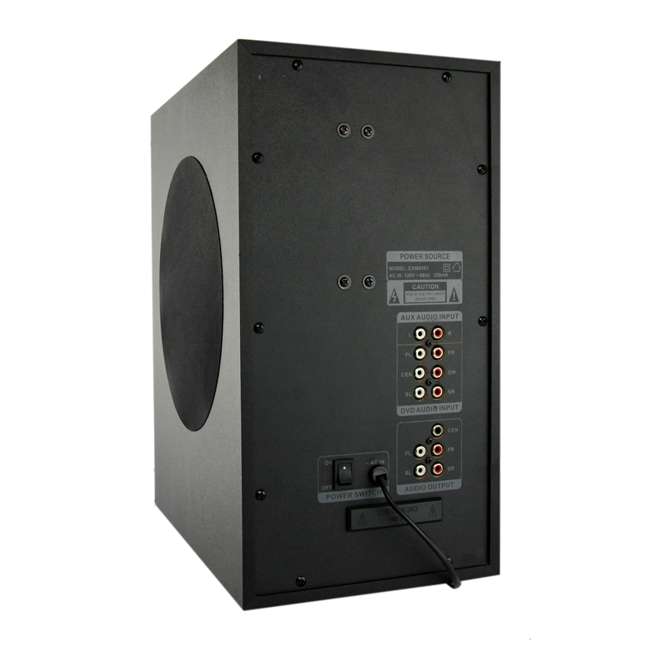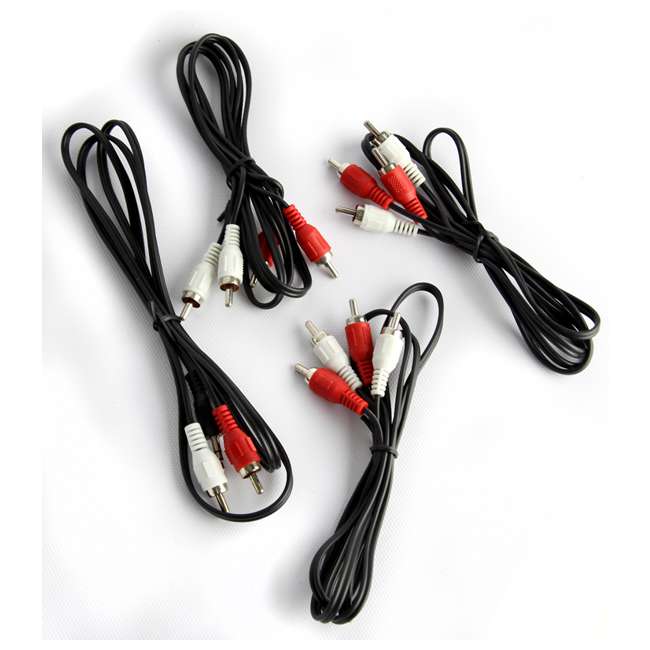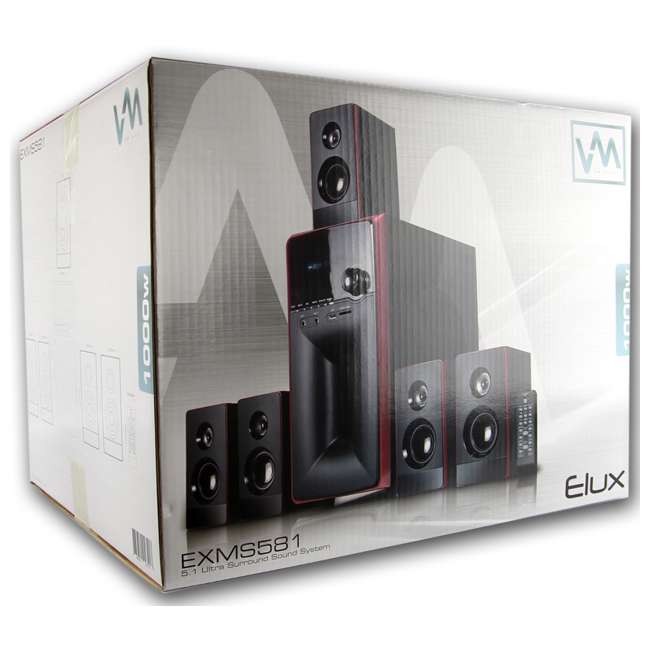 VM Audio 5.1 Multi Media Surround Sound System | EXMS581
Was $189.99
You save $78.00!
| | |
| --- | --- |
| SKU: | VM-EXMS581 |
| Brand: | VM Audio |
| Condition: | New |
VM Audio EXMS581 1000 Watt 5.1 Surround Sound System
The Elux 5.1 Surround Sound System provides smooth, expansive surround sound with independently powered speakers and subwoofer. This ensures you feel accurate sound from each speaker to recreate that harmonious theater experience. Our high definition, high-fidelity system comes with two stereo, two surround and one center speaker topped off with one ground trembling 8" subwoofer. This subwoofer creates the deep, rich and full bass that transforms a living room into the football field during a game or the war zone during a movie. 90% of the movie experience is sound, and our engineers have created a dynamic system that caters to this philosophy. Leading technology such as the Hyper-Tuning Port enhances the bass and brings out the crisp low frequencies. The Elux 5.1 Surround System also utilizes the 5.1 Pro-Logic Sound Channel to deliver the rich, spacious surround sound to your living room. With the Digital Matrix Sound processing system, all your sounds are natural and smooth. You get the most advanced, most brilliant home entertainment system we' ve ever built.
---
You'll be so close to your entertainment, you'll feel like the action star in your favorite movie; the quarterback of the game; or the hero in your favorite video game. This is what entertainment should feel like - a fully powered speaker system that's compact and stylish while delivering maximum sound to your living room. VM Audio has raised the bar yet again with unprecedented feats of engineering - and imagination to bring you a state-of-the-art system that will make an impression on even the most demanding audiophile and make your guests take notice.
Our 1000 Watt Powered Total Peak System keeps your sound powerful and even. With independently powered speakers and subwoofers, you'll hear high-energy sound wherever you sit.
You can either select Stereo Mode if you want traditional two channel sound with the subwoofer or Pro Logic Mode if want a surround sound for a more theatrical and immersive experience.
YOU'RE IN CONTROL An Infrared Wireless Remote lets you adjust your sound from the couch with a click. It's compact size fits in the palm of your hand and lets you adjust the sound to your liking.

ENERGY SAVER With selectable Standby Mode with the LED Power Indicator you'll save energy while keeping your system ready for you to turn on.

DIGITAL PROCESSING Digital Matrix Sound Processing disperses your sound cleanly and at an even pattern throughout the room. It processes your sound to make it clear and crisp.
HIGHLIGHTS
5.1 Surround Sound System
Independent Powered Speakers and Subwoofer
USB/SD Media Card Reader Input
Digital Matrix Sound Processing System
Two Channel Stereo or Six Channel Surround Modes
Five Dual 3" Wired Surround Sound Speakers Included
Includes 2 Speakers with 6 Ft RCA Cables for Front Speakers
Includes 3 Speakers with 12 Ft RCA Cables for Center and Rear Speakers
One 8" High Excursion Subwoofer
Decorative High Gloss Satellite and Bass Module Enclosure Finish
Wood Enclosure Bass Module with Hyper Tuning Port Design
Selectable Standby Mode with LED Power Indicator
1000W Total Peak Fully Powered Speaker System
Infrared Wireless Remote Control Included
RCA to 3.5mm and RCA to RCA Audio Adaptor Cables Included
TECHNICAL SPECIFICATIONS
Pieces in System: 6
Sound Processor: Digital Matrix
Mode: Stereo, 5.1 Pro Logic
Audio Input: RCA, Aux, USB, SD
Remote: Yes
Integrated Controls: Volume, Bass, Treble, (Individually Control Center, FR, FL, RR, RL Satellites & Sub)
Video Shielded: Yes
Tweeter Size: 1"
Midrange Size: 3"
Woofer Size: 8"
Subwoofer Cabinet: Bass Reflex
Integrated Amplifier: Yes
RMS Power Output: 370W
Peak Power Output: 1000W
Frequency Response: 35Hz-20kHz (+/- 3dB)
Dolby Ready: Yes
DTS Ready: Yes
Power Source: AC Power
Subwoofer Dimensions: 15" H x 7.8" W x 12.8" D
Satellite Dimensions: 8.5" H x 4.7" W x 4.1" D
Warranty: 1 Year
Written by
ashoemaker
on Dec 11, 2012
Okay system
I purchased this product as a christmas present for my boyfriend to use in our two bedroom apartment. Note: We have a 40inch LCD Samsung Tv. When taking everything out of the box everything hooks into the subwoofer by the red and white audio cables. The problem that we ran into was that our tv has no audio output on the back of the tv. The only audio output it has is the optical audio output. This posed a huge problem for us because we couldn't hook it straight into our tv to watch with everyday tv. It worked perfectly through our blu ray. Other than the inconvenience of only having the red and white audio cables the surround sound worked great.
Would I recommend this to a friend or family member?
No
Pros
Simple to Set Up
Looks Good
Sturdy
Written by
iDAEMON
from Toledo, OH
on Jan 28, 2013
Very pleased.
After much research I finally bought this to replace my old custom built 2.1 speaker system for my PC, and I'm more than happy I must say.
Hooked the whole thing up to my PC, then I set speakers to small in Windows and went into my Creative X-FI SB software and turned the BASS Crossover to 35Hz (sounded the best, not too strong nor too weak). After installation and tweaking I fired up Battlefield 3; simply blown away by how good everything sounded, the speakers are crystal clear, radio chatter sounds great through the center speaker, firing a tank sounds just bloody awesome, the sub is a powerful beast. And best of all you can tweak each channel volume separately which is nice if you want the center to be louder or something. The back speaker cables are about 8 - 12 ft rougly. The LED screen and remote are a very nice touch. For this price it probably doesn't get much better than this.
Would I recommend this to a friend or family member?
Yes
Pros
Easy to Use
Safe
Simple to Set Up
Looks Good
Sturdy
Quality Construction
Written by
The BLACKMAN
from Brooklyn, New York
on Feb 4, 2013
Good System!!!
This system is relly good and it fits right into your living room . The set-up is easy BUT pleaser note to use the remote toi activate the five others. It's great for the price and you should be satisfied. I would certainly recommend this product tto a friend.
LOOKS GOOD
AFFORDABLE
EASY TO  ASSEMBLE
Would I recommend this to a friend or family member?
Yes
Pros
Easy to Use
Simple to Set Up
Looks Good
Quality Construction
Written by
Twisted Pixel
from Kansas
on Feb 12, 2013
Great performance for a great price
Works great for most pc setups. Only wish it had an optical input.
Would I recommend this to a friend or family member?
Yes
Pros
Easy to Use
Simple to Set Up
Looks Good
Sturdy
Quality Construction
Written by
Omegabunny
from US
on Mar 10, 2013
VM Audio EXMS581 Great budget system...
Let me begin by stating that I received this system from VM Audio in exchange for a honest review. One of the conditions was full disclosure on my part that I did receive this item for free for testing purposes.Pro's: Great sounding system for little cost. This product costs about $110 shipped to you door making it a nice, inexpensive 5.1 surround sound home theater system. The system will not only increase the the volume of you current system but it plays lower and more defined compared to the stock speakers found in flat panel displays. I was a little worried about the small subwoofer as I have a large media room, but the 8" subwoofer was more than enough to fill the 25' x 14' room.The plug and play connections are easy to make using basic audio/video RCA's. This makes it easy for anyone to the system up in a matter of minutes assuming that your tv and other components have audio outputs.The speakers and subwoofer cabinet/source are nice looking with a black textured plastic and gloss dark red trim. It should look nice in any room.USB/Card Readers: This is always a nice feature when you just want to listen to music. Simply plug in your iPod/MP3 player or a SD card and you're ready to go.It comes with a nice little remote so you don't have to get up and change sources though I found it much easier to switch albums and artists via my iPod.Cons: Lack of digital input. If your components don't have the white/red RCA audio outs then you will need to get a converter or find another way to convert the signal.The buttons feel a little cheap and loose so it feels like it could easily break if you press them too hard.Cord's are not very long and were not long enough for me to properly run everything for a clean install. For testing purposes I just strung the wires and used extensions but to do it properly and to make it look clean you are going to have to buy more wire. For this reason I am only going to continue running this as a 2.1 system.Conclusion:This system is great for anyone on a budget. Is it a high end or audiophile grade system, no but the price also reflects that it doesn't fall into that category. What is does manage to do is sound good, play low, and adds clarity over stock television speakers. VMI provided these speakers to me for testing purposes and after testing them I would not hesitate to buy a set for myself or recommend them to friends.
Would I recommend this to a friend or family member?
Yes
Pros
Easy to Use
Simple to Set Up
Looks Good
Written by
Natty
from Michigan
on Nov 11, 2013
Well rounded speakers
I bought this product a few months ago.  I currently live in a small, 10x15 (dorm room) and I was looking for something cheap, good looking, and loud.  So far, Ive got everything I wanted.  It comes with 5 individual speakers, all slightly taller than an unsharpened pencil.  The main subwoofer is big, but not too bulky.  I only use it for simple stero input, but it has many other options as well. I have yet to find a way to use the USB input, it doesnt seem to work on my iPod. 
The system is loud.  Granted, I have it in a rather confined space, but considering I can hear it throught the building when near max volume... it pack a punch.  The base really kicks as well.  I normally have to turn it down in order to balance the songs out. 
A great feature of this system is the ability to individually tune each speaker.  This allows for a great surround stero sound.  
One important thing to note, is the very shor length of the speaker wires. They a much to short to place behind, and infront of you, so you must chose one or the other.  However, ordering some extesion wire (~http://goo.gl/imB1TY~) will easily fix this. 
When I first purchased these, I was extreemly dissapointed to find the left and right outputs caused the spakers to squeal.  I contacted VM, and they were quick to to replace the unit. I diddnt want to pay for shipping, so I stored them away, and used only the other 3 speakers. Quite recently, (1.5 months later) I plugged them back in, and they now work fine. Nothing has broken, or shown signs of wear.  They are holding up quite nicely 
All in all, these speakers a great, and easy to set up right out of the box. 4/5 due to the short wires, and somewhat cheap feel to the individual speakers.  
I'd reccomend it for: Use in a single room, and idealy for music.
If you're looking for a set for a home theater, then this probably is NOT a good choice, the individual speakers a too bulky, and it isnt really what it's designed for.
NOTE: As far as I can tell, there is no difference in performance between the White, Black and Red models. The only difference is their color, and the style of remote they use.  (and the price of course) 
Would I recommend this to a friend or family member?
Yes
Pros
Easy to Use
Simple to Set Up
Looks Good
Main/Sub Strong construction
Cons
Individual speaker construction, not super sturdy
Written by
SafetyCorn
from Austin, TX
on Jan 29, 2014
Verified Buyer
The best speakers ever.
I bought these speaker and was instantly amazed at how loud they were. The bass is perfection, so much that I need to turn it down because my walls are shaking XD. I was at first having problems getting the rear speakers to come on and after 30 seconds on Tech Support with AUSTIN it was fixed! Just make sure you press the ProLogic button.... The rear cords JUST made it to where I want them so that wasnt a problem, but it may be for some other people. For this price I dont think there's anything better. Thank You!  
Would I recommend this to a friend or family member?
Yes
Pros
Easy to Use
Safe
Simple to Set Up
Looks Good
Sturdy
Quality Construction
Loud
Written by
netthoney
from Michigan
on Apr 11, 2014
Verified Buyer
Great Buy
This system was purchased for our 15 year olds birthday.  He was given a dollar amount and choose this item after much research.  He was a tad uncomfortable purchasing from a company he had not heard of but he couldn't be happier with his choice.  He told me the set up was very simple and he finds the sound quality to be outstanding!  What he particularly likes is that the volume of each speaker is adjustable individually and he liked the volume of the sub woofer.  His only complaint has been that he wished. the length of the speaker wires were longer.  He is very pleased with his research and purchase and would definitely buy from this company again.
Would I recommend this to a friend or family member?
Yes
Pros
Easy to Use
Simple to Set Up
Looks Good
Quality Construction
Written by
palacete
from California
on Jul 10, 2014
Verified Buyer
stolen my money, no way to contact
I Yes came Across to buy this unit, VM AUDI Say you can register the unit in order to have the one year warranty, but after you try day by day for 19 day and calling and writing emails, you never get answer for this scam company, you know this unit has an issue, when you star the unit, microphone star first with a big noise on the volume, NO WAY TO CONTACT THIS COMPANY, NOT SUPPORT, NO ANSWER PHONE, THEY NOT ANSWER EMAIL, NO WAY TO REGISTER YOUR PRODUCT, BECAUSE THEY LOOK THE SYSTEM in order you can not register the product, i do not if this company is located in china, but now to contact them, USA Buller, be aware, do not lose your money like i did, $ 124,00 gone, nice, nice. order # 4375614 order day june 11 2014
Would I recommend this to a friend or family member?
No
Written by
JamesHuskers
from United States
on Jan 12, 2018
Good Quality, if it works properly!
I ordered this product a few years ago. The first day I got it, two of the speaker ports didn't work. Other than that it worked fine, sounded great! I also tried contacting the company, and after one email I didn't receive any other contact at all. Finally a few months ago the whole system gave out on me. It still plays music, but even on full volume it is extremely quiet. Would honestly probably reorder again considering it is only roughly $120 for the system.
Would I recommend this to a friend or family member?
No
Pros
Easy to Use
Simple to Set Up
Looks Good
Have a question that's not answered here? Ask our team of product experts!
This will be visible to our community