ALL ORDERS PLACED BEFORE 2PM CST SHIP THE SAME DAY - FAST & FREE SHIPPING EVERY DAY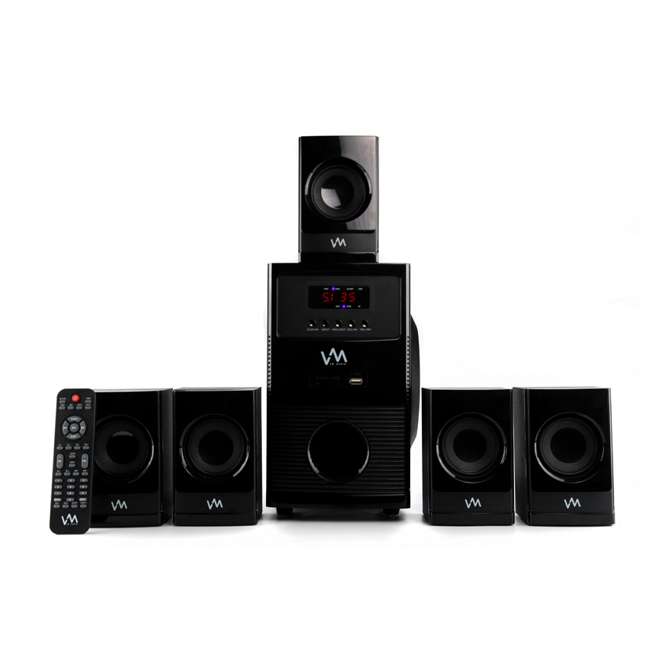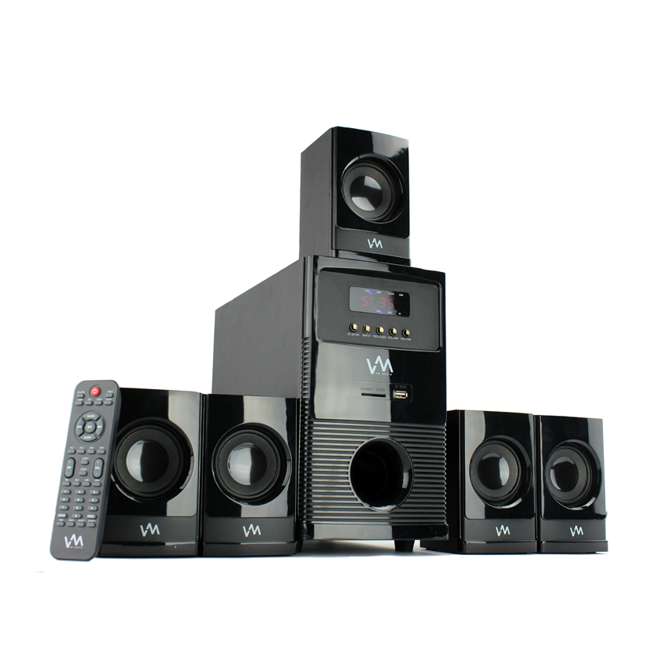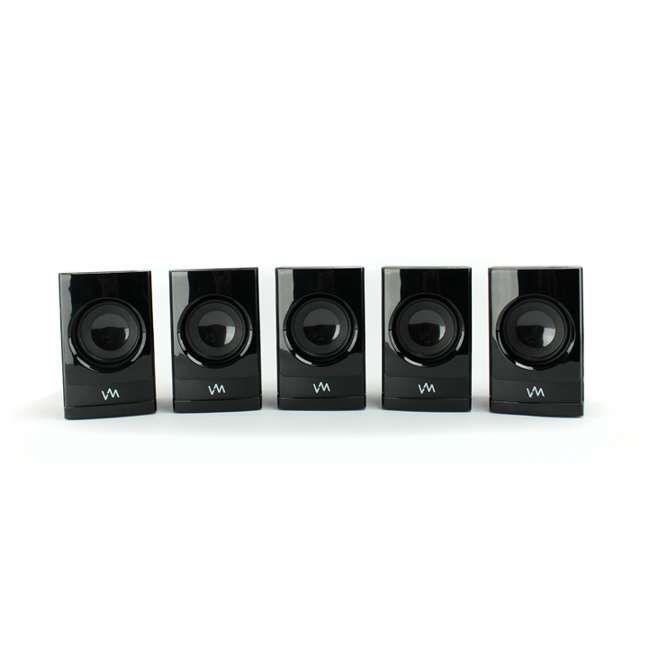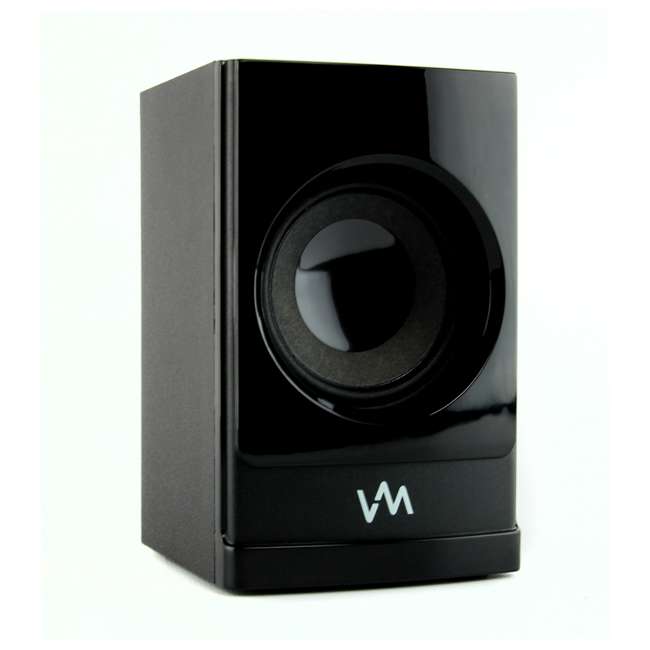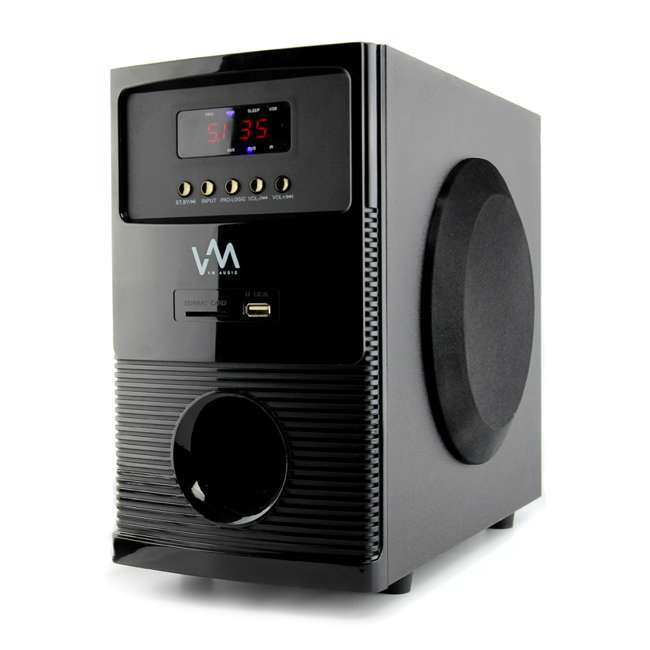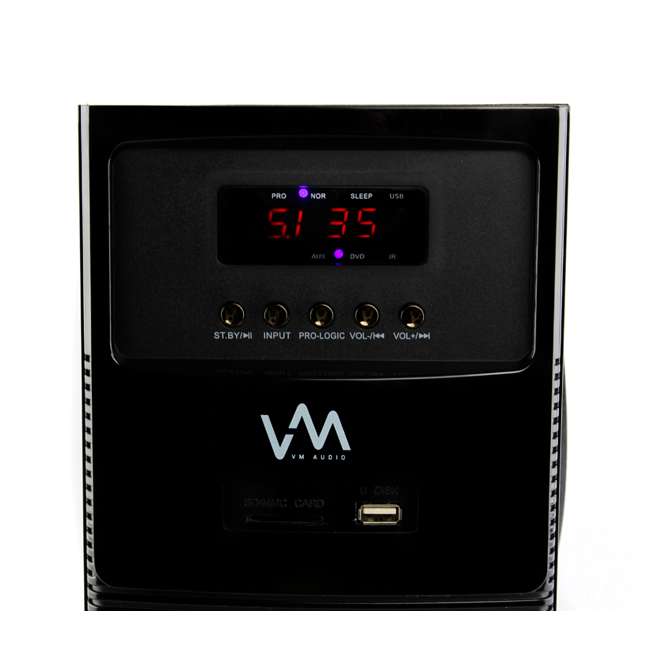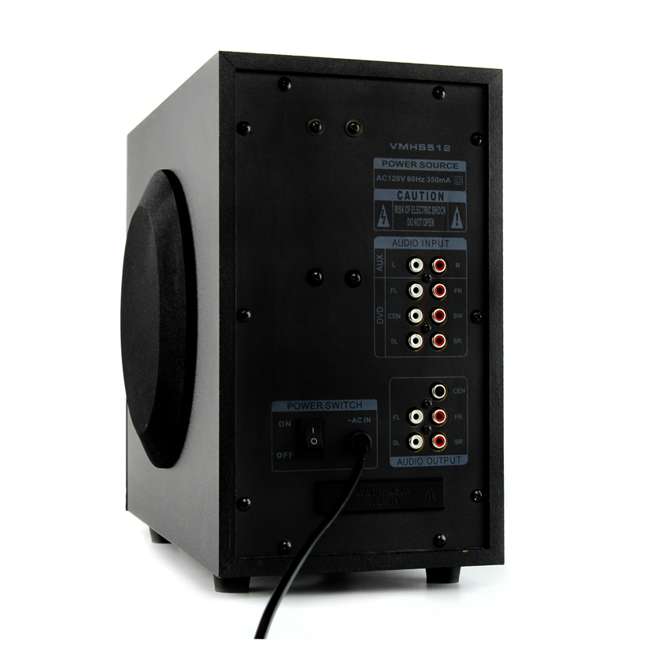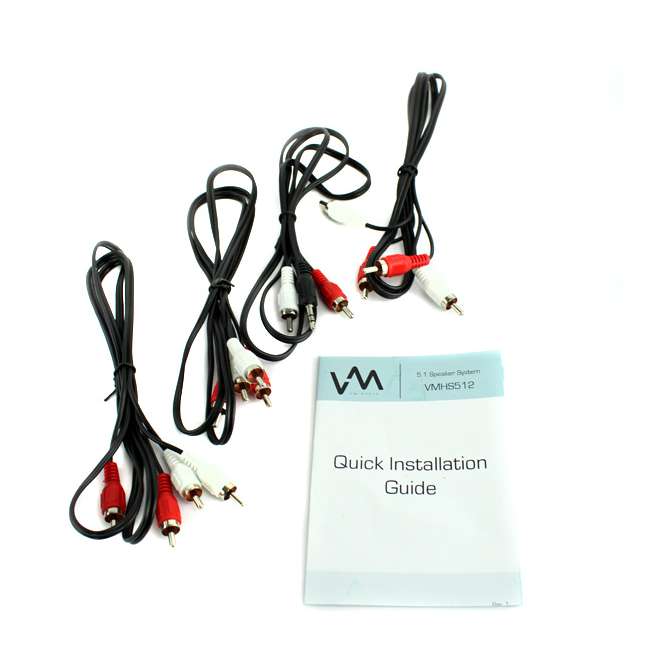 VM Audio 5.1 Multimedia Surround Sound System w/ USB/SD | VMHS512
| | |
| --- | --- |
| SKU: | VM-VMHS512 |
| Brand: | VM Audio |
| Condition: | New |
This VM Audio 200 watt RMS 5.1 multimedia surround sound system is designed with your acquired taste for quality in mind. The Elux Series VMHS512 has the rightful design and performance to satisfy your utmost demand.
This 5.1 multimedia surround sound system offers plug-and-play design for extremely easy setup. Its booming subwoofer and five speakers offer a rich, surround sound experience. Hook this 5.1 multimedia surround sound system up your HDTV, iPod, gaming console or DVD player and immerse yourself in a musical euphoria so clear and rich with bass so low and loud that anything else will seem like white noise.
USB/SD media card reader input
Great for movies, games, music & more
Five (5) ultra magnetic shielded full range satellite speakers
600 Watt total peak fully powered surround sound speaker system
New VM Audio VMHS512 600 Watt 5.1 Surround Sound System
600 Watt total peak fully powered speaker system
Two channel stereo or six channel surround modes
Independent powered speaker and subwoofer
USB/SD media card reader input
Digital matrix sound processing system
5) 2.75" ultra magnetic shielded full range satellite speakers
One 4" high excursion subwoofer
Decorative high gloss satellite and bass module enclosed finish
Wood enclosure bass module with hyper tuning port design
Selectable standby mode with LED power indicator
40Hz-20kHz frequency response system
RCA to 3.5mm and RCA to RCA audio adaptor cables included
Infrared wireless remote control included
Compatible with the following:

Home: LED TVs LCD TVs and Plasma TVs with audio aux outputs
Computing: iPad, tablets, MacBook, notebooks and computer desktops
Smartphones: iPhones, Google Android, Blackberry and Windows phones
Digital audio players: iPod touch, iPod nano, iPod shuffle, MP3 players, CD and DVD
Gaming system: Xbox, Playstation and Wii consoles

Dimensions:

Satellite Speaker: 5.1" H x 3.5" W x 3.62" D
Woofer Cabinet: 10.1" H x 5.5" W x 11" D
Remote: 6.1" H x 1.6" W x D

120V/60Hz/200mA
Product Condition: Brand New
Part Number: VMHS511
1 Year Manufacturer Warranty
Written by
shaggy
on Dec 15, 2012
Verified Buyer
cheap satellite speakers
Bought VMHS512 to use with my laptop and TV in my bedroom. System sounded great for about 2 days untill the front satellite speakers started to blow out. Moved them to the rear because i could not stand all the popping and crackling. Now those speakers are blowing out too. I think it is really shamefull that you are advertising and selling a product rated for 600 Watts but yet the speakers that come with the system can't handle the power. Yesterday my subwoofer started popping and rattling. I have had the product less than a month and have 4 crappy satellite speakers and now it looks like the sub unit is on its last leggs. Shame on you for selling such crappy products.
Would I recommend this to a friend or family member?
No
Pros
Easy to Use
Simple to Set Up
Looks Good
Cons
Poor Quality
Bad Design
sat. spk. poor quality
Written by
areyourandy
from South Orange NJ
on Dec 9, 2012
Verified Buyer
Worth the price
I bought these as a replacement for the low quality logitech computer speakers I had hooked up to my computer.  In compairson to any 2:1 speaker set up these are amazing.  The range of sound is pretty decent, nothing absolutely mesmerizing though.  
I really wish the speakers came with an instruction booklet that had some more in depth directions or suggestions for set up.  You can view it on pdf on this website and as you can see the instructions are incredibly limited.
Also the speaker wires are SUPER short. The back left and back right ones have a slightly longer cord but not enough to reach far behind in a room to give more than one person a quality surround sound effect without having a wire dangling waist high in the room.  
also i wish the website or the speakers came with advised software drivers to work with the speaker set up.  When I first installed only 2 of the speakers worked properly.  I had to reinstall drivers and almost went through the process of purchasing a sound card.
The back left and back right speakers dont really get too loud either.  Not noticable if they are even on at some points, which practically defeats the purpose of buying a surround sound system because I dont get that feeling that music or sound is coming fom every direction unless I turn the volume almost all the way up.
The bass however is wonderful and overall I find that this system for a personal surround sound experience is worth the price and the buy.   
Would I recommend this to a friend or family member?
Yes
Pros
Easy to Use
Safe
Looks Good
Quality Construction
Written by
Shaggy
from michigan
on Dec 15, 2012
Verified Buyer
Don't buy this
When first set it up I was impressed. 2 days later however when the first speaker blew I was not. Have had the product less than a month I have two blown satellite speakers and a subwoofer thats on the fritz crackling and popping. Apparently the system is rated for 600 watts but the speakers that come with it can't handle the power. Steer clear of this system it will leave you disappointed. It's even to bulky to use as a paperweight now that it now that I have unhooked it and am looking for another system. Horrible shame on you for selling an inferior product and marketing as if it's not. maybe if you lower your claims to 200 watts you won't leave your customers disappointed
Would I recommend this to a friend or family member?
No
Pros
Easy to Use
Simple to Set Up
Looks Good
Written by
Hector Gomez
from Texas
on Mar 10, 2013
Rockin budget system
I was given a chance to test and analyze the performance of the VM Audio VMHS512 set throughthe course of a week thus far. First and foremost, I must say that after abusein three environments including Theater, Party, and Gaming, I have had nofailure or performance deterioration issues. I would also venture to say thatthis is a budget set of speakers given its price. I wonít be comparing it to$300 dollar sets in every aspect. Just keep in mind what you are paying forthese.
Contents: This is a 5.1 system meaning that it contains a center speaker, 4 satellite speakers,and a subwoofer. The center speaker is in fact the same speaker as thesatellites, which isnít abnormal for most 5.1 sets. You can easilydifferentiate the rear satellites from the fronts/center based on the wirelength they are given. Depending on the size of your room, you may be able toposition the satellites where you please but limited wire length will not allowyou too much flexibility. They use an RCA plug so you can always buy a simpleextension to allow more length. The subwoofer contains a controlinterface that you can control with an included remote control. The remote givesyou more tunability so I find myself using it most of the time. Aside from yourtypical volume, track, and input selections, you can also tune the volume ofeach speaker independently and choose between running the system in 5.1 or 2.1.This enables you to tune the system to give you a volume balance depending on yourposition in the room. The subwoofer control center accepts an SD card, FlashDrive, and has multiple inputs on the back side for TV, VCR, DVD, etc. with theexception of an HDMI port.
Theater Environment: I initially set the VMHS512 set up in my living room connected to myTV via supplied signal (RCA) wires. I was unable to place the rear satellitespeakers toward the back of the room due to the wire length so I placed them onthe far sides of the TV. The system projects sound very well and gets loudwithout distorting. I was unable to get 5.1 separation due to a single pair ofRCA cables, giving me 2 channels. The satellites kept from distortingregardless of the volume level I used while the subwoofer maintained a cleansound. As far as subwoofer tuning is concerned, I believe it is not tuned lowenough for heavy theater listening. This set utilizes a woofer that is morethan likely too small for a low frequency response and the enclosure tuningitself. Low end production rolls off below 40ish Hz so very low frequencies inmovies will not be produced or projected well. This made me believe thattheater might not be the best environment for this set. Based on my previousexperiences with similar Logitech and Creative Labs systems, I figured thatgaming or music would be a suitable environment for this set.
Gaming: I moved the VMHS512 set to my bedroom and placed the center on my desk under my TV withthe satellites surrounding my desk and the subwoofer under the desk. I used theprovided RCA cables to connect my TV to the subwoofer and proceeded to playBlack Ops II and Forza Horizon. I again used the satellites in a 2chconfiguration and while I didnít get to hear separated sounds from front toback, it did make me feel like I was in the middle of the game. I could hearexplosions around me as grenades exploded and the whine of engines around me asI raced through ďColoradoĒ in Horizon. The woofer provided impactful explosionsand a smooth low exhaust tones.
Music: I used the VMHS512 in the same configuration as my gaming and theater environments to testfor personal use and during a party. The majority of listening involved the USBport playing music from a loaded flash drive. I created folders on my flashdrive for each artist and as far as I know, the only thing missing is theability to switch folders instead of tracks only. This means that I couldnítjust search through folders for certain artists. I have to skip through eachtrack from each artist until I find the track I wanted to play. This gave methe idea that creating a simple playlist was about the best option for musicplayback. I created a long list of tracks for a party that we threw that nightand let the music play for over 8 hours straight with the volume maxed out. Ikept the subwoofer level at 0 on a scale of -10 to 10 with the satellites andcenter speaker set at 8. I never heard satellite distortion and the system keptplaying all night until 6:00AM on a variety of bass heavy music. I was relievedthat the system held up to abuse because as you may know, if the music stops,the party stops.
Conclusion: For the price, I donít believe that the VMHS512 system can really be topped. Bassoutput compares to or outperforms other systems in this price range and unlikemost other systems, the satellites donít distort at high volume. I would loveto see a lower subwoofer tuning but considering that it makes up a majority ofthe mid-bass, it would be very hard to achieve without larger satellitespeakers. I enjoyed using this multimedia system and have left it in my bedroomfor gaming duty.
Would I recommend this to a friend or family member?
Yes
Pros
Easy to Use
Safe
Simple to Set Up
Looks Good
Sturdy
Quality Construction
Have a question that's not answered here? Ask our team of product experts!
This will be visible to our community