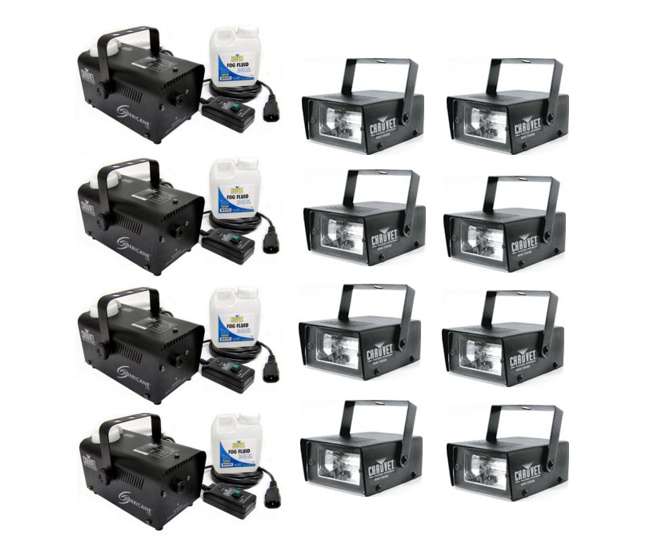 Chauvet H 700 Hurricane Fog/Smoke Machines H-700 (4) + CH-730 Mini Strobe Lights (8)
Was $319.99. You save $78.04!  
| | |
| --- | --- |
| SKU: | 4 x H700 + 8 x MINISTROBE-LED |
| Brand: | Chauvet DJ |
| Condition: | New |
| Delivery | |
| Quantity | |
Package Includes
(4) Chauvet H 700 Fog Machines
(8) Chauvet CH-730 Mini Strobe Lights
---
The Chauvet H 700 is an exceptional value! The Hurricane™ Series Foggers provide the quality, performance and innovation for which CHAUVET® is known. All come with generous-capacity tanks and quick heat up of water-based fog to fill a venue within minutes. This product features a 0.6 Liter capacity, a 2.5 minute heat up time, and includes a wired remote!
COMES WITH 4 FREE PINTs OF CHAUVET FOG JUICE/FLUID & WIRED REMOTES!
Purchase the Chauvet H 700 Fog/Smoke Machine for a great price from VMInnovations! Als included in the package is the Chauvet CH-730, which is a 35-watt strobe light, with an adjustable output of 1 to 12 flashes per second. Adjust it to perfectly match the mood and beat of your music. Designed for use in very small areas, this light is small enough to fit in the palm of your hand which makes it a great travel companion!
We are an authorized Chauvet dealer
(4) Brand New Chauvet H 700 Fog/Smoke Machines!

Ready to use right out of the box
Output: 1,500cfm
0.6L tank capacity
Fog fluid included (0.5L)
2.5 minute heat up
Permanently wired remote
Water-based fogger
Specifications:
Fluid consumption: 7.5ml/minute
Remote Length: 13 ft (4 m)
Input Voltage: 120 VAC, 60 Hz
Power and Current: 471 W, 3.9 A @ 120 V, 60 Hz
Weight: 4lbs (1.8kg)
Size: 8.5in x 7.1in x 4.9in
215mm x 180mm x 125mm

Product Condition: Brand New
Part Number: H-700 (H700)
2-year Warranty: (1-year Manufacturer + 1-year VMInnovations!)
(8) Brand New Chauvet CH-730 Mini Strobe DJ Club Lights!

35 watts, 1-10fps
Specifications:
Power: 110V or 230V
Weight: 0.7lbs (.3kgs)
Size: 5in x 3.3in x 2in
127mm x 83mm x 51mm

Product Condition: Brand New
Part Number: CH-730 (CH730)
2-year Warranty: (1-year Manufacturer + 1-year VMInnovations!)