Summit Treestand Surround Seat w/ Mossy Oak Cushion - Fits Viper, Titan, & More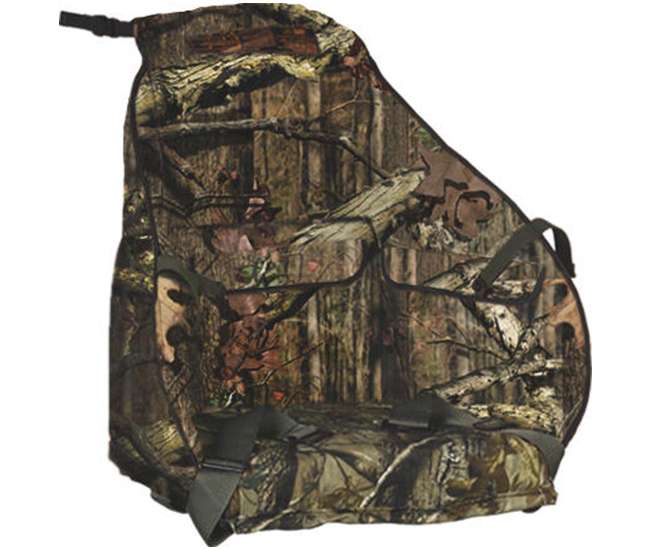 Product Details
Built from the Viper tree stand seat design, the Summit Surround Seat offers maximum comfort in a treestand chair. Padded sides give you the back support you need so you'll be less likely to fidget. The Surround Seat features three built in pockets so you can keep hunting gear close by. Quick release buckles allow you take the treestand chair on and off with ease.
The Summit Surround Seat is truly a worthwhile investment. You'll stay comfortable for hours in the Surround Seat and not have to worry about being stiff the next day. This innovative treestand chair works with virtually any climbing treestand, and can be used to enhance most ladder stands. All of our tree stand accessories are engineered with the same construction and design that make Summit hunting products a favorite of hunters.
Features
Provides Maximum Comfort
Padded Sides Provide Necessary Back Support
Features 3 Built In Pockets so you can keep gear close by
Quick Release Buckles allow you to take on and off with ease
Fits virtually every Summit Climber, as well as many other brands
Mossy Oak Camo Design
Specifications:
Seat Base: 18" wide by 12" long
Seat Backrest: 12" wide by 20" long
Product Condition: Brand New
Part Number: 85250 SEAT
Manufacturer warranty: 5-year warranty
Support
Reviews
Worth the upgrade!!!
Bought this seat for my Summit Viper SD. Nothingwrong with my original seat, just wanted one with the pockets and wrap around. Great for those all day sits. Didn't add tha tmuch weight to the stand, maybe 8 oz. VMInnovations shipped it out fast and I received it in only a few days. Thanks again!!!
Would I recommend this to a friend or family member?
Yes
Pros
Easy to Use
Simple to Set Up
Quality Construction
I fell asleep
Nice product. Keeps your bottom warm along with the sides and your lower back. Very comfortable.
Would I recommend this to a friend or family member?
Yes
Pros
Easy to Use
Safe
Simple to Set Up
Looks Good
Sturdy
Quality Construction
Super comfortable and warm
This seat is huge! The picture does it no justice. It literally makes sitting in a tree like relaxing on a couch at home. I bought it for my generic 70 dollar climber and it allows me to stay in the tree for extended periods of time because I'm actually comfortable. The padding is literally 4 inches thick and the thing wraps around your entire body
Would I recommend this to a friend or family member?
Yes