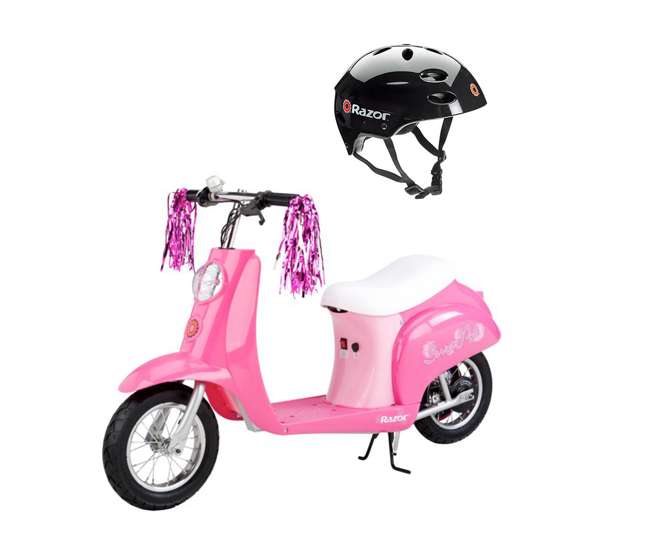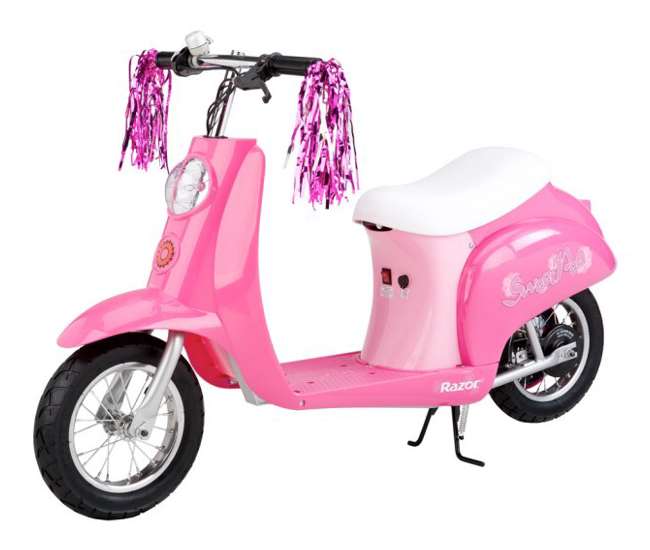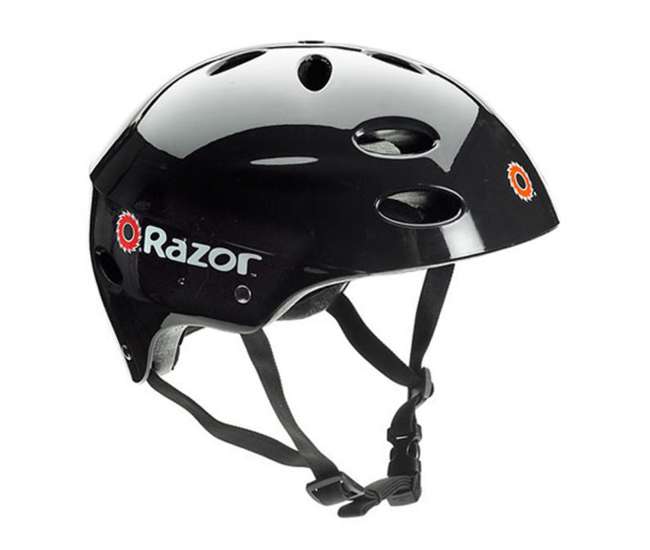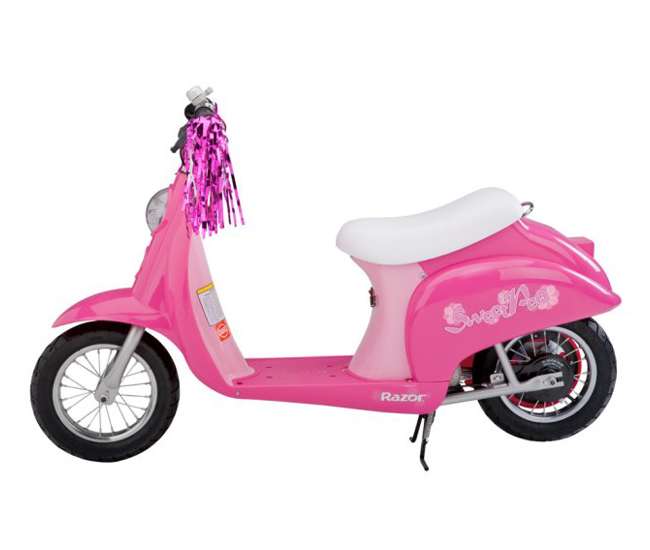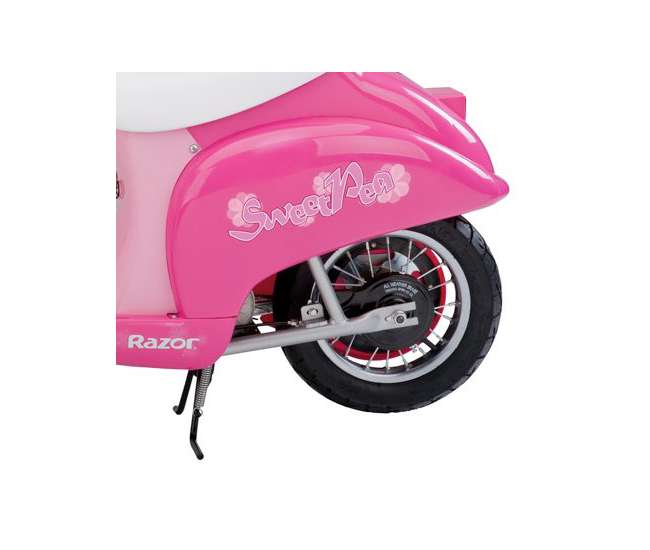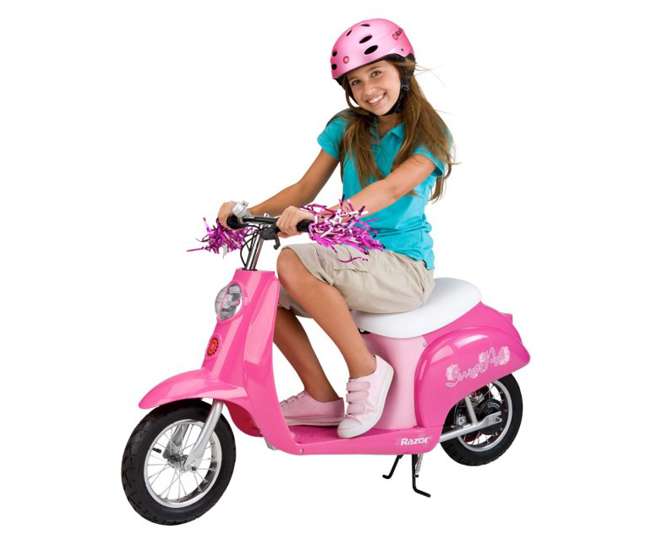 Razor Pocket Mod Miniature Euro 24V Electric Scooter and V17 Youth Sport Helmet
| | |
| --- | --- |
| SKU: | 15130659 |
| Brand: | Razor |
| Condition: | New |
If your child has a need for speed (no worries, only up to 15 mph) and a love for pink, then this Razor Pocket Mod Miniature Sweet Pea Electric Scooter will give your child a thrill ride.
Featuring a high-performance, chain-driven electric motor, the Razor Pocket Mod can travel up to 10 miles before re-charging and reach speeds of up to 15 miles per hour--plenty fast for a quick trip around the block or a fun ride to the park. The scooter shows off a pair of 12-inch pneumatic tires with a rear suspension system to ensure a comfortable ride.
Ride your scooter, bike, or skateboard and rock this sporty, glossy black Razor V17 Youth Helmet to stay safe and protected while also looking sleek and stylish.
Featuring 17 vents and ergonomic interior, this helmet provides safety while keeping the rider's head cool and comfortable. The sleek finish has a professional look when your little one pushes the limits on their bike, skateboard, scooter or whatever else they choose.
Package includes Razor Pocket Mod Miniature Euro 24V Electric Retro Scooter and Razor V17 Youth Sport Helmet
Your child will love to zoom around the neighborhood on this Razor Pocket Mod Miniature Electric Scooter
Variable-speed acceleration, reaches speeds up to 15 miles per hour
Make sure to keep your kids safe during outdoor playtime with the Razor V17 Youth Helmet
Helmet is great for biking, skating, scooter riding, and more
Razor Pocket Mod Miniature Euro 24V Electric Retro Scooter, Sweet Pea
Vintage-inspired Mod design and high-performance electric motor provide the perfect mix of utility and style
Can travel up to 10 miles on a single charge
Single speed, chain driven motor for maximum power transfer
Battery Cxharge Time: 2-4 hours
Large 12-inch pneumatic tires for a smooth ride
Retractable center mount kickstand and padded seat
High-torque motor with chain drive
24V sealed lead acid battery system
Powerful 250-watt electric motor
Up to 30 minutes of continuous use
UL approved battery charger
Tools included
Helmet not included
Ages: 13+
Weight Limit: 150 pounds
Part number: 15130659
Color: Sweet Pea Pink
Dimensions: 50 x 18 x 30 inches
Weight: 59 pounds
Manufacturer Warranty: 90-day warranty
Razor V17 Youth Sport Helmet, Glossy Black
Ergonomic interior padding is comfortable and secure
17 top and side vents allows airflow and helps riders keep a cool head on hot days
Side release buckles adjust and fasten quickly
Color: Glossy black
Fits head sizes 22 to 23.5 inches
Complies with CPSC standards
Ages: 8 to 14
Part number: 97778
Color: Glossy Black
Manufacturer warranty: 1-year warranty