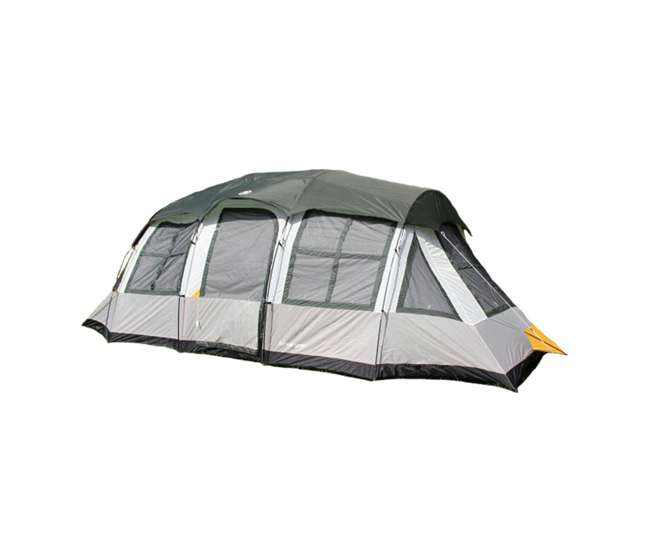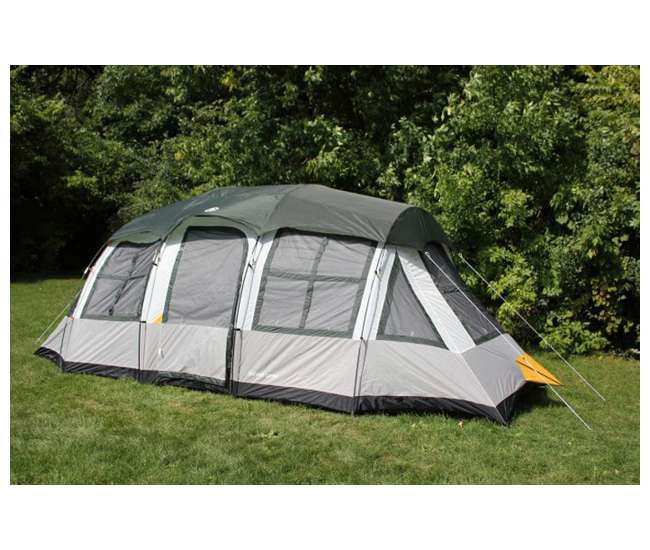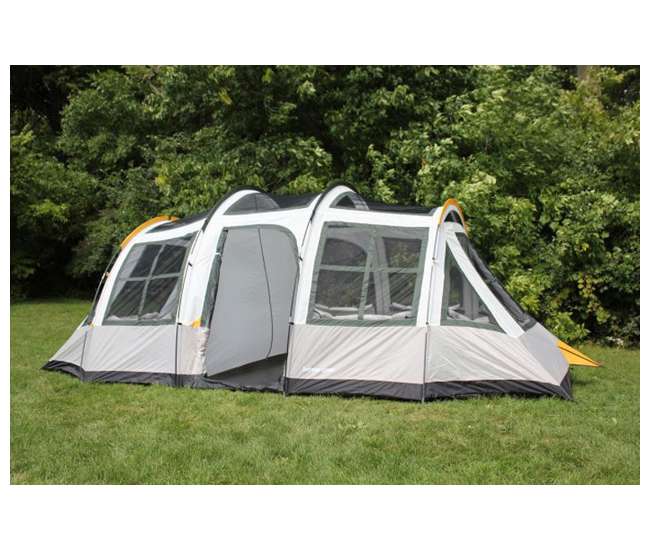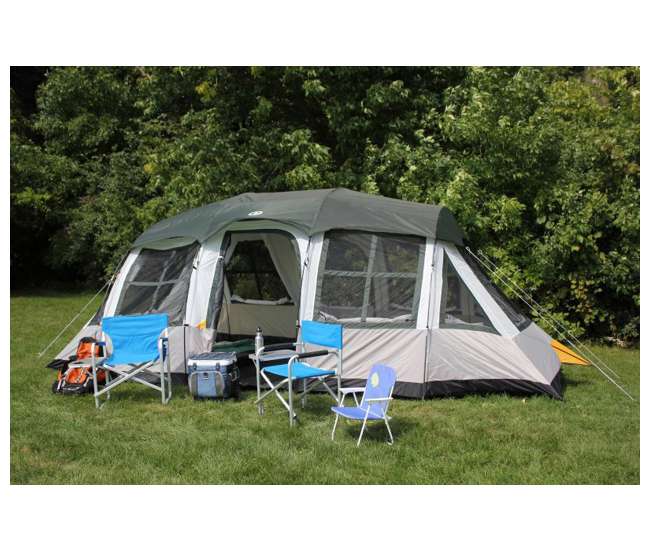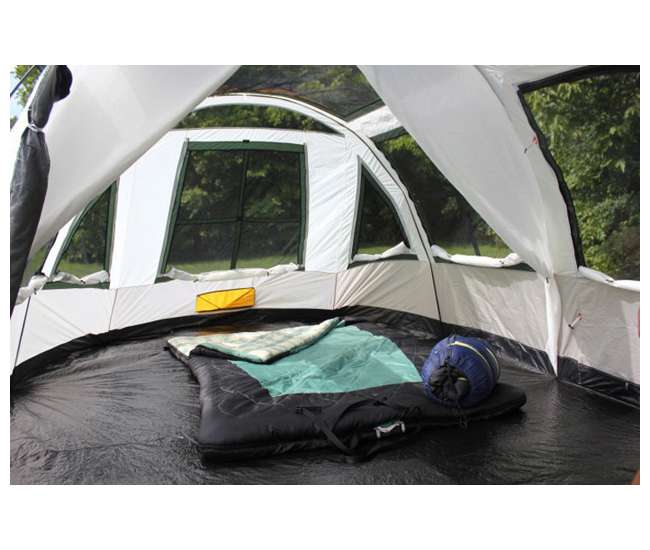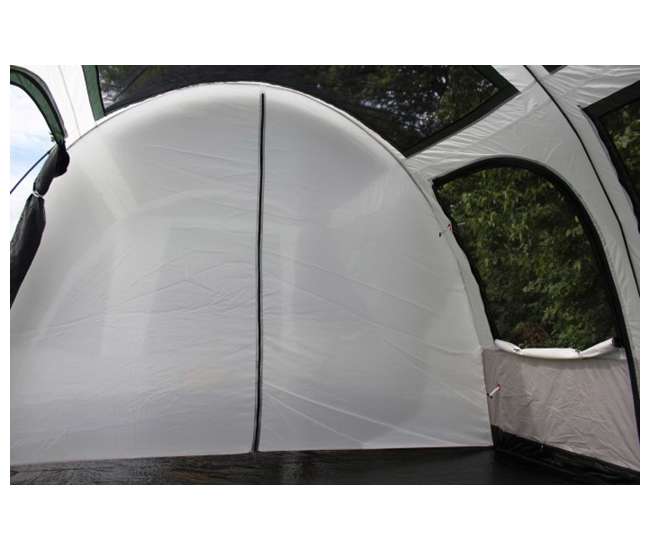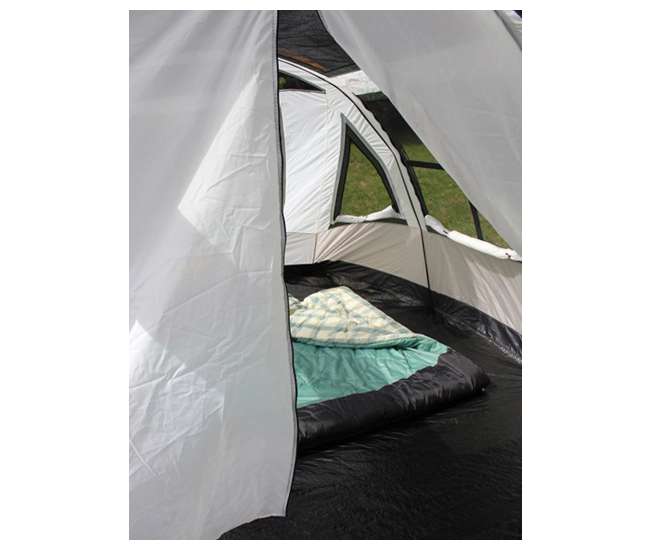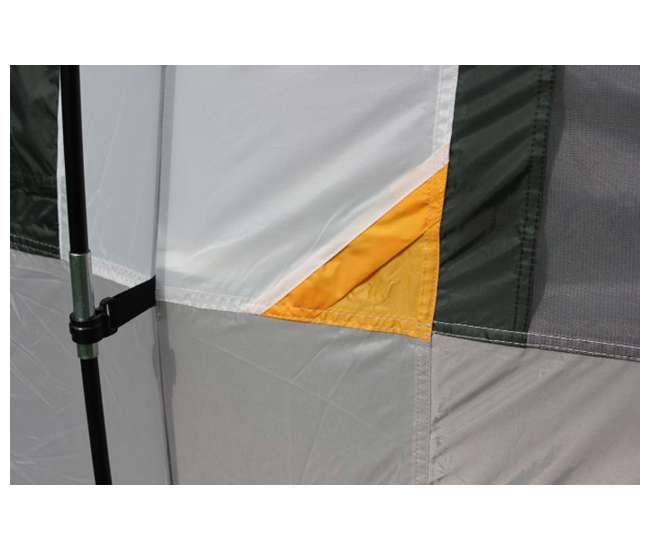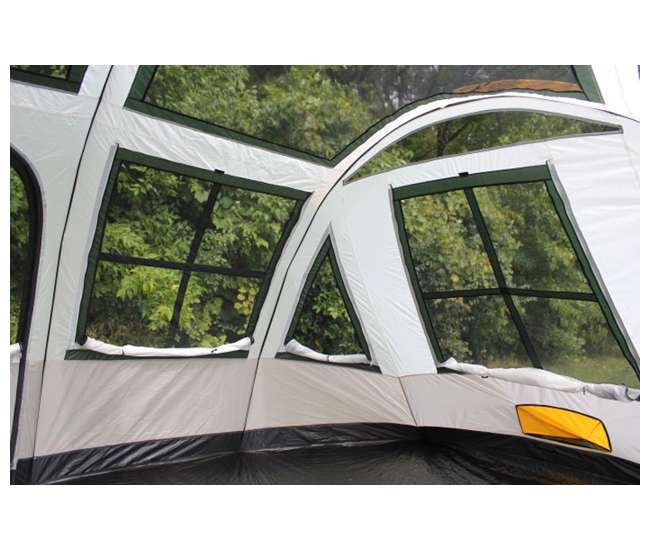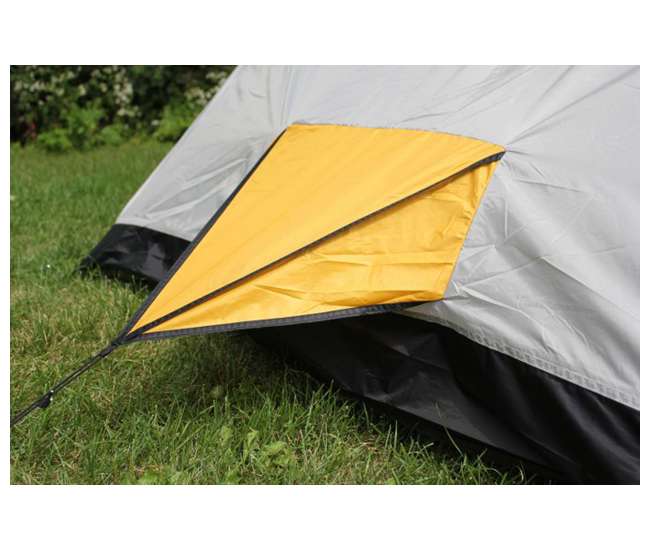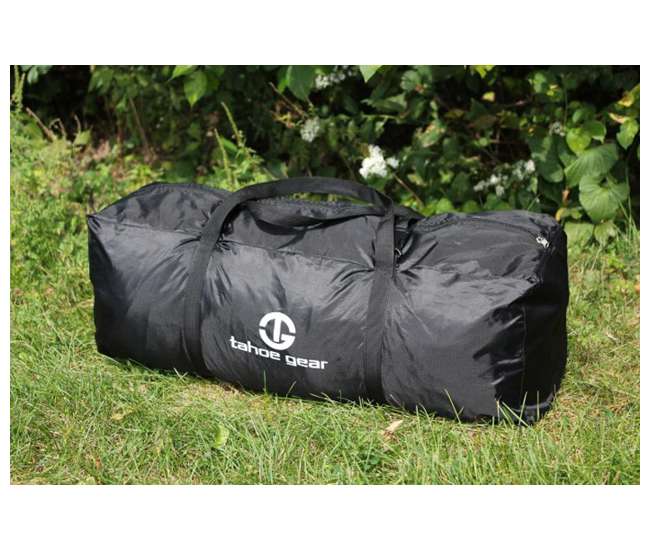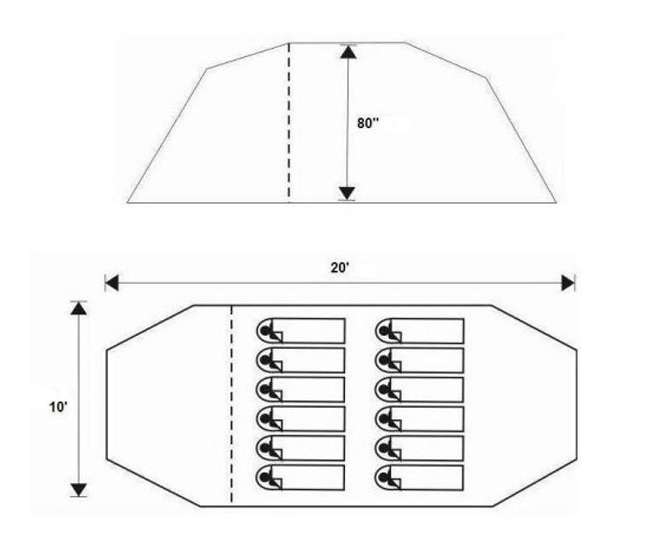 Tahoe Gear Prescott 12 Person 3-Season Family Cabin Tent
| | |
| --- | --- |
| SKU: | DT201080 |
| Condition: | New |
Get away this weekend with the family in the Tahoe Gear Tent. Whether it's just a relaxing weekend or that next big hiking trip, get ready to comfortably settle in the outdoors with this 12 person, 3 season family cabin tent. Featuring a unique shape with a generous height, this large and accommodating tent is the perfect blend of size, value, and quality for your group's next outdoors getaway.
This Tahoe Gear Tent is ideal for for comfortably sleeping from 10 up to 12 campers, and it provides the space for your group and the gear needed for your adventure. With an open and airy design, including floor air vents to further increase ventilation, the Prescott can be your screen room during the day and your enclosed space for comfortable sleep at the end of the day. The large floor area is great for spending time with fellow campers, and the included cabin divider can create two separate room areas when needed.
Equipped with easy setup poles, stakes, guy ropes, and complete with large zip windows and rain fly for unexpected weather, get ready to call the Prescott your next time out into the great outdoors.
Large yet practical and comfortable, the Prescott is great for your family or larger group, daytime or for a comfortable night outdoors.
With a generous 6'6" center height, campers of all sizes can move around and stand comfortably throughout the tent.
Easy to assemble shock corded fiberglass poles allow for easy set up.
Tent body and rain fly made with durable 190T polyester with 1200mm coating
Taped fly seams protects users from the elements
Fly includes guy ropes on each side for securing the tent in windy weather
The Prescott's floor is made of a waterproof 120 gram polyethylene sheet.
Large mesh roof and windows open and close easily provide excellent ventilation, and keeps users cool on those warm summer nights.
Two full sized doorways on either side provide easy exit and entrance, and can be completely closed, screen only, or tie back to remain completely open.
Room divider provides privacy to either side or can be open for one large open space
Large windows zip completely shut for sleeping and open for use as a screen room on those comfortable days.
Please note: camping furniture and related accessories pictured are not included
What's included: tent carry bag, pole bag, stakes, rain fly, and assembly instructions
Color: Green and gray
Total dimensions (L x W): 20 x 10 feet
Tent height: 6.7 feet

Manufacturer warranty: 2-year warranty
Written by
Zygoticdeisgn
 from Fall River, MA on Jun 27, 2017 
Verified Buyer
Great service, great tent!
I was pleasantly surprised at how fast I received this tent! Everybody was impressed with it...we had to give tours, ha! My husband and I are tall, I'm 5'9" and he's 6'2"– we comfortably stand in it (it's 80" tall). The first night we used the tent, it was downpouring. We easily set-it up for the first time, and the second time was even better. Also, the tent stood up to one of the worse storms I've experienced camping. We did have a tarp over it, but since the tent was SO huge, it didn't cover it completely, and still no leaks. l highly suggest getting this tent, and I highly suggest buying it from VM Innovations, since the shipping was quicker, and the tent was cheaper. I'm VERY HAPPY WITH THIS PURCHASE. Thank you!!!
Would I recommed this to a friend or family member?
Yes
Pros
Easy to Use
Safe
Simple to Set Up
Looks Good
Sturdy
Quality Construction
Written by
HeatherR
 from Ohio on Aug 7, 2017 
Verified Buyer
Worth the work!
This tent is perfect for our family of 4! This was our first camping trip and made the purchase with the hopes that this would become a family tradition for us. The kids had room to put two inflatable chairs that fold out to twin mattresses on one side, and we had room for our queen size air mattress on the other side, with room to spare for our bags and things to keep us entertained without feeling cramped at all! We did have some difficulty following the instructions to get it set up. Once you do it a few times, it starts to make sense and becomes easier.  Possibly easier for a more experienced camper. It is a lot easier with more than two people, but is possible with only two. Again, we are not regular campers, so the extra space and luxury was important for us (besides, keeping the kids separated is sometimes a necessity)! Possibly too ambitious for our first camping trip, but in the end we were so glad we went with this tent! Could NOT be happier! 
Would I recommed this to a friend or family member?
Yes